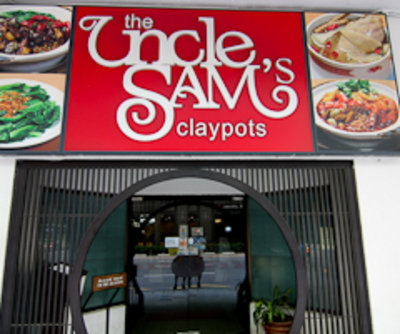 Uncle Sam's Claypots

8 / 15
THE BUZZ: Uncle Sam's Claypots offers some of the best Chinese cuisines in Singapore, serving a tantalizing collection of dishes that are suitable for group gatherings and casual dining. It presents a variety of dishes, so there is something for everyone on the menu.Located along Robinson Road, Uncle Sam's Claypots is only a few minutes away from Tanjong Pagar MRT station.MUST TRY: Items to look forward to including Beef Claypot Rice, Spicy Thai Boneless Chicken Claypot, and Tom Yam Seafood Claypot Noodles.
Hours:

Mon - Fri: 11:00 - 15:00
Address:
63 Robinson Road, #01-01A Afro-Asia Building
Cuisine:
Asian, Chinese, Local, Singaporean

I completed a 2 hours long "community sharing session" aka CSS on the 20th. They are held in CCs all over the island - you are eligible to attend the events within your area. They divided us up into 6 groups of approximately 10 people, give or take a few (I didn't .....



Posted in PR, Citizenship, Passes & Visas for Foreigners
Re: Interpol red Notice for misappropriating $88k
If you read the article he really ran away from massive loan shark debts as much as anything. I wonder what he did for 15 years?



Posted in General Discussions
Re: PR Approval Probability 2022




We got married last year, applied for PR (SG spouse sponsored) about 6 months after. The wait took .....