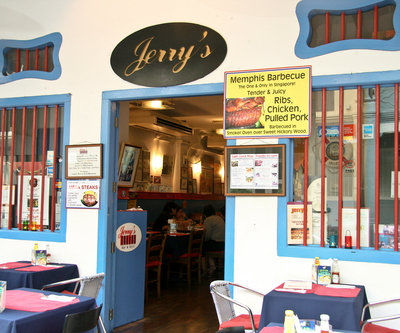 Jerry's Barbecue & Grill

26 / 40
The HungryGoWhere team is here to help you. Listed below are this eatery's available take-away and delivery options.

Delivery:
Jerry's Barbecue & Grill is offering delivery via the following options:
Phone: 63234550

Take-away:
Jerry's Barbecue & Grill is offering take-away via the following options:
Phone: 63234550

THE BUZZ:Jerry's Barbecue & Grill offers some of the best American cuisine in Singapore, serving a tantalising collection of dishes that are suitable for casual dining and group gatherings. It presents a variety of appetizers, pasta, grilled steak, lamb & sausages, seafood, barbeque, and more, so there is something for everyone on the menu.Located along Club Street, Jerry's Barbecue & Grill provides a casual and relaxed ambience to accommodate any form of dining where families and friends can spend some quality time together over a wonderful meal filled with the freshest and most delicious ingredients.MUST TRY:Items to look forward to include Buffalo Wings, Seafood Spaghetti Al-alo, Lamb Loin Chops, Wagyu Sirloin, BBQ Prawn Delight, Fish & Chips, BBQ Pulled Pork Platter, Ribs & Chicken Duo, and a lot more.For drinks, they offer wines, cocktails, beer, and non-alcoholic beverages like smoothies, coffee, and tea.
Hours:

Daily: 12:00 - 22:00
Address:
92 Club Street
Cuisine:
American, Steak and Grills, Western

How are they married and separated at the same time? Do you mean they're in the separation period before divorce? Because if so, I'm not quite sure that .....



Posted in General Discussions
Lol, dude, the least you can do is to change the content. Not just replacing the word men to women. :-k

Anyway, I have not met any women who cheated their partner yet, and what is IME women? I have never heard of that before. :-k

Cheers
You're either very young or .....



Posted in General Discussions
To all women

This is a sensitive topic to talk about and yet not a foreign topic. But I do want know why women cheat on their partner (bf, husband, companion), and yes, I am a male who write this topic. I asked because some women in my circle do that. Just to be clear, not all women .....



Posted in General Discussions