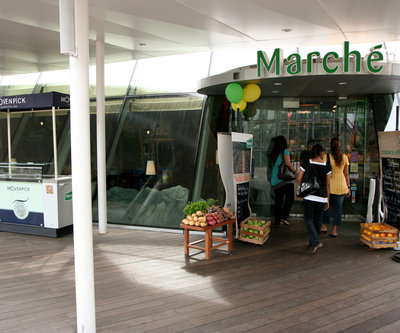 Marché Mövenpick

53 / 97
The HungryGoWhere team is here to help you. Listed below are this eatery's available take-away and delivery options.

Delivery:
Marché Mövenpick is offering delivery via the following options:
https://order.marche-movenpick.com/en_SG/

Take-away:
Marché Mövenpick has no take-away options.
MUST TRY:Baby Spinach with Bacon and Sliced Onions Tossed in Strawberry Vinaigrette, Beef Short Ribs Served with Baked Potatoes, Caesar Salad with Air-Dried Black Forest Ham, Chicken Goulash Soup with Garlic Bread, Cream of Brocolli Soup with Garlic Bread, Oven-Baked Sea Bass Fillet with Fingerling PotatoesMarche Restaurant offers some of the best European and Western cuisines in Singapore, serving a tantalising collection of dishes that are suitable for family gatherings and large group. From salads, pastries, and desserts its extensive menu is reflective of the restaurant's efforts to cater to every palate.The restaurant is located in VivoCity along HarbourFront Walk. Their dining concept is styled around a traditional European marketplace, where diners order and collect their meals from the stalls they prefer. The culinary includes fresh and vitamin-rich salads variations, crispy gourmet pizzas combined with seafood and pasta, and vegetables or meat with savoury sauces.
Hours:

Mon - Fri: 11:00 - 23:00
Sat - Sun: 10:00 - 23:00
Address:
1 HarbourFront Walk, #03-14 Vivocity
Re: Looking for one or more squash partners
Hi Guys I'm moving to Bayshore Condo and looking for partners for squash or tennis.



Posted in Sports & Recreational Partners & Team
I don't really understand why you'd want to apply for PEP. If you're officially still employed for a few months, why don't you just use that time to find a new job instead? In the eyes of ICA, it'd look like a normal job change and it wont hurt your chances with your PR application either .....



Posted in PR, Citizenship, Passes & Visas for Foreigners
If you try to renew your REP without a job, it won't be instantaneous and ICA may call to ask why you are not working etc before probably giving you an REP for 1 year to allow you to find a job.

Or you could do exactly what SMS said, which is to wait till you find a job and then renew your REP .....