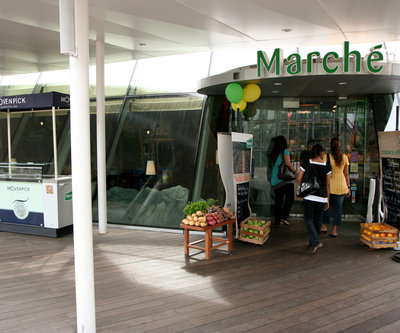 Marché Mövenpick

53 / 97
The HungryGoWhere team is here to help you. Listed below are this eatery's available take-away and delivery options.

Delivery:
Marché Mövenpick is offering delivery via the following options:
https://order.marche-movenpick.com/en_SG/

Take-away:
Marché Mövenpick has no take-away options.
MUST TRY:Baby Spinach with Bacon and Sliced Onions Tossed in Strawberry Vinaigrette, Beef Short Ribs Served with Baked Potatoes, Caesar Salad with Air-Dried Black Forest Ham, Chicken Goulash Soup with Garlic Bread, Cream of Brocolli Soup with Garlic Bread, Oven-Baked Sea Bass Fillet with Fingerling PotatoesMarche Restaurant offers some of the best European and Western cuisines in Singapore, serving a tantalising collection of dishes that are suitable for family gatherings and large group. From salads, pastries, and desserts its extensive menu is reflective of the restaurant's efforts to cater to every palate.The restaurant is located in VivoCity along HarbourFront Walk. Their dining concept is styled around a traditional European marketplace, where diners order and collect their meals from the stalls they prefer. The culinary includes fresh and vitamin-rich salads variations, crispy gourmet pizzas combined with seafood and pasta, and vegetables or meat with savoury sauces.
Hours:

Mon - Fri: 11:00 - 23:00
Sat - Sun: 10:00 - 23:00
Address:
1 HarbourFront Walk, #03-14 Vivocity
Re: Best vegetarian meat alternatives

Why though? If it's not for religious or compassionate reasons, a meat based diet is just superior to a plants only one.


For some people meat is just gross and stinky.

[quote=Lisafuller post_id=861327 time=1643053394 .....



Posted in General Discussions
Finnair used to allow small pets on board. I heard about a person who brought a chinchilla to Singapore this way.
But their website says that this option is now suspended due to COVID.
Maybe check with them?

https://www.finnair.com/sg-en/pets-on-finnair-flights



Posted in Relocating, Moving to Singapore
Re: 4 men charged over Covid19 breaches in New Years eve
After the debacle when the government lied to everybody about the ability of the police to use it to track people, doesn't surprise me at all. Especially with them knowing that what they were doing was in violation of the current bans. I am sure word was also passed like 20 questions to whomever .....



Posted in Entertainment, Leisure & Sports