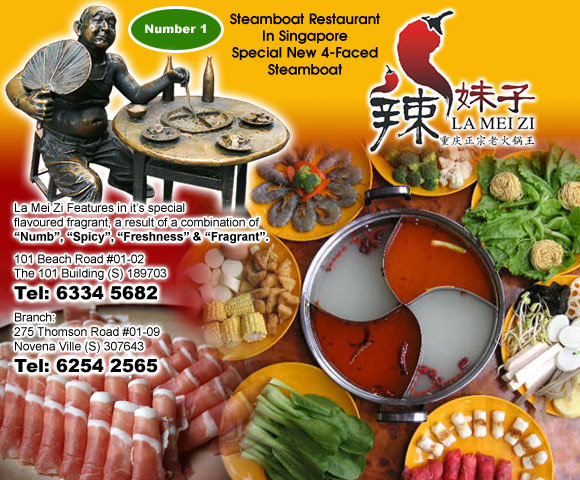 LaMeiZi
辣妹子
4 / 8
If you have a special liking for hotpots, you will know that the key to a great steamboat session is not just fresh ingredients and good company – In fact, everything boils down to the soup base. There's a great selection of soup base here in Spicy Lady, such as Spicy Ma La, Tom Yam, and Chicken Broth etc. However, when a few friends gather together for steamboat, what should we do if everyone prefers a different soup base?Located in Beach Road - Bugis, "Authentic Old Chong Qing Steamboat" aka "Spicy Lady" always believes in providing the best for customers. Now you no longer have to fight for your favorite soup base! With the exclusive launch of four-faced pot, you will be able to mix 4 different kind of soup base all in a pot! Yes, sharing is caring!

"Spicy Lady" started off at Beach Road, Bugis since 2003. Our steamboats have since attracted my diners from all walks of life. At the later stage, more and more steamboat restaurants have sprung along Beach Road, Bugis. In order to maintain and carry forward the "Spicy Lady" character, the store in 2007, has registered the "Spicy Lady" trademark.

As you walk into our "Spicy Lady" hotpot restaurant, you will find it fresh steamboat ingredients readily available. On top of beef, lamb, pork, chicken, shrimp, crab dishes; you will be pleasantly surprised to find fine mushrooms, edible fungus, beancurd skin, lily, water spinach, emperor seedlings, bean sprouts and other healthy vegetables greatly loved by the people.Among the cooked food we serve, you may find braised duck's gizzard, duck's neck, pig's ear, pig's stomach served crispy and delicious. These are complemented by the exquisite steamboat dishes.
Hours:

Daily: 13:00 - 01:00
Address:
101 Beach Road, #01-02 The 101
Cuisine:
Asian, Chinese, Local, Singaporean





What do you mean 4 lines? It is just a table, with each person added to the application in a separate row and the .....



Posted in PR, Citizenship, Passes & Visas for Foreigners
Re: Spending majority of year in Sing as a Retired Tourist?

TBH, I can't imagine spending the majority of the year in Sing as a retired tourist. What in the world would you do with your time? Unless you have family here or something?


How would it be any more boring here than any .....



Posted in Relocating, Moving to Singapore
Most newcomers to this forum are phony, so you'll have to do better than hello.



Posted in Entertainment, Leisure & Sports