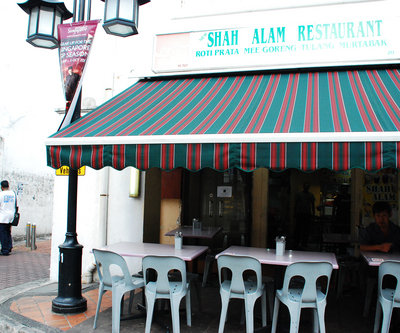 Shah Alam Restaurant

5 / 6
The HungryGoWhere team is here to help you. Listed below are this eatery's available take-away and delivery options.

Delivery:
Shah Alam Restaurant is offering delivery via the following options:
https://www.foodpanda.sg/restaurant/s3xt/shah-alam-restaurant

Take-away:
Shah Alam Restaurant is offering take-away via the following options:
https://www.foodpanda.sg/restaurant/s3xt/shah-alam-restaurant
THE BUZZ: Shah Alam Restaurant offers some of the best Indian Cuisine serving a tantalising collection of dishes that are suitable for family, large groups, catching up with friends and colleagues. From Prata to Briyani its extensive menu is reflective of the restaurant's efforts to cater to every palate.

This restaurant is located in Raffles Place along Circular Road. Come and try out their delicious dishes with your friends and family!MUST TRY: Indulge in their mouth-watering dishes such as Mee Goreng, Roti Prata, Chicken Murtabak, Chicken Briyani, Maggi Goreng Chicken, Nasi Goreng Putih Ikan Bilis Mata Lembu, Mutton Briyani, Mutton Murtabak, Egg Prata and Roti John Ayam.
Hours:

Daily: 24 Hours -
Address:
20 Circular Road
Cuisine:
Asian, Indian, South Indian
Re: Timeline of my husband's initial PMLA and LTVP and renewals, then finally PR!


let's say it is approved in March and given a 1-year LTVP, will the expiry date of the new LTVP be May 2024 or March 2024?

Expiry date is based on when you go down to .....



Posted in PR, Citizenship, Passes & Visas for Foreigners
Re: My Nightmare Experience with a Property Agent
It's to the advantage of the local and expat landlord population.

Only when we see someone notable and embarrassing for the Singapore govt stitched up will this change. This is partly why local landlords are not keen to rent to certain parties who have influence.



Posted in Property Talk, Housing & Rental
Re: Will Darlie toothpaste be next?
I remember when that blew up over here. In fact, if we search the archives here around 2016 or 17 I believe there was a thread on it as well.


Italy responded! https://www.youtube.com/watch?v=0bDqAkgAblI



Posted in Leisure Chat, Jokes, Rubbish