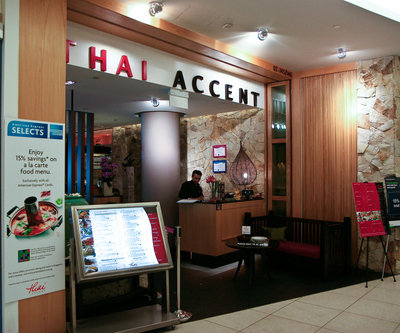 Thai Accent

16 / 35
Thai Accent offers some of the best Thai cuisine serving a tantalising collection of dishes that are suitable for family gatherings, large groups, catching up with friends and colleagues. From Pineapple Fried Rice with Prawns to Green Curry Chicken, its extensive menu is reflective of the restaurant's efforts to cater to every palate.This restaurant is located in Vivocity along Harbourfront Walk. This company operates Thai Accent, a pleasant restaurant overlooking the waterfront. Customers can get all the usual Thai favourites such as tom yum soup, red and green curry, and fried noodle dishes here.MUST TRY: Indulge in their mouth-watering dishes such as Phad Thai Noodles with Prawns, Beef Noodles Soup and Belacan Fried Rice with Prawns.
Hours:

Daily: 11:00 - 22:00
Address:
1 Harbourfront Walk, #02-145 Vivocity
Cuisine:
Asian, Indochinese, Thai
Re: PR Approval Probability 2021
Posted in PR, Citizenship, Passes & Visas for Foreigners

I completed a 2 hours long "community sharing session" aka CSS on the 20th. They are held in CCs all over the island - you are eligible to attend the events within your area. They divided us up into 6 groups of approximately 10 people, give or take a few (I didn't .....



Posted in PR, Citizenship, Passes & Visas for Foreigners
Re: Interpol red Notice for misappropriating $88k
If you read the article he really ran away from massive loan shark debts as much as anything. I wonder what he did for 15 years?



Posted in General Discussions