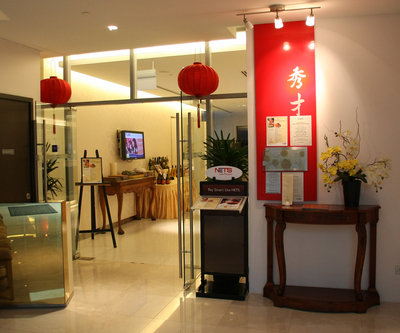 The Scholar

11 / 14
The Scholar offers some of the best Chinese and Seafood Cuisine serving a tantalising collection of dishes that are suitable for family, large groups, catching up with friends and colleagues. From Buddha Jumps Over The Wall to Steamed Rice In Mini Pot with chicken its extensive menu is reflective of the restaurant's efforts to cater to every palate.

This restaurant is located in NUSS Kent Ridge Guild House along Kent Ridge Drive. The Scholar is a restaurant located within the NUS compound that serves mainly Oriental cuisine with its known signature dish the Peking Duck.MUST TRY: Indulge in their mouth-watering dishes such as Fried Glutinous Lotus Paste Dumpling, Lobster Noodles, Sri Lankan Crab, Roast Chicken Cantonese Style and Coffee Pork Ribs.
Hours:

Mon - Thu: 12:00 - 15:00
Fri - Eve of PH: 12:00 - 15:00
Mon - Thu: 18:00 - 22:00
Fri - Eve of PH: 18:00 - 22:30
Sat: 11:30 - 16:00
Sat, Sun & PH: 18:00 - 22:30
Sun & PH: 11:30 - 16:00
Address:
9 Kent Ridge Drive, Level 1 NUSS Kent Ridge Guild House
Personally I don't see anything wrong with it. Especially, when it is publicly posted on their website. Don't nightclubs that also serve food and alcohol also keep kids out (carding at the door in a lot of instances). (I don't use height as a metric here). So if a .....



Posted in General Discussions
Whining mama doesn't get much sympathy in Dublin!

https://www.independent.ie/irish-news/i-was-refused-by-d4-restaurant-in-case-my-little-girl-disturbed-diners-30930651.html
Will need to put Dublin on my list of must travel places I see!



Posted in General Discussions


You may consider to add to your standard screening tests the respective cancer markers (PSA in this case). It costs ca SGD30.
Just $30? I've been pushing my dad to go in for a full physical but .....



Posted in Beauty, Health & Fitness