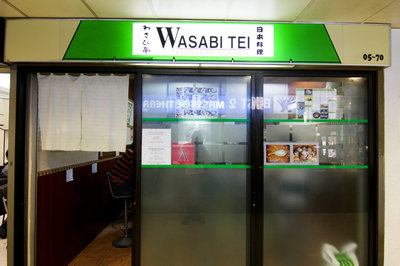 Wasabi Tei Japanese Cuisine

36 / 49
Wasabi Tei Japanese Cuisine offers some of the best Japanese cuisines in Singapore, serving a tantalising collection of dishes that are suitable for family gatherings, large groups, catching up with friends and colleagues. From sashimi to sushi its extensive menu is reflective of the restaurant's efforts to cater to every palate.This restaurant is located in Far East Plaza along Scotts Road. Wasabi Tei is a small little Japanese eatery located at the top floor of Far East Plaza, located in one of the back shop corridors. Wasabi Tei serves a variety of Japanese set meals, ranging from sushi sets to hotpot sets.MUST TRY: Indulge in their mouth-watering dishes such as Chirashi Don, Salmon Miso Soup, and Salmon Sashimi.
Hours:

Daily: 12:00 - 15:00
Daily: 17:30 - 21:30
Address:
14 Scotts Road, #05-68 & 70 Far East Plaza
We are likely moving to California at the end of next year, we certainly won't be spending near as much $ as we do here.

I have scoped out the best high schools for my son, nearly as good as SAS, but free. That alone will be a huge weight lifted. I've been checking out used cars on Carfax.com .....



Posted in General Discussions
Listings on PG in the last 2 months...definitely more supply

15/7/2023- 30,000
22/7/2023- 30,200
29/7/2023- 30,100
5/8/2023- 30,300
12/8/2023- 30,400
19/8/2023- 30,700
26/8/2023- 30,900
2/9/2023- 31,100
9/9/2023- 31,600
16/9/2023- 31,700
23/9/2023 -32,200



Posted in Property Talk, Housing & Rental
Try these people..... I cannot vouch for them as I've never needed a translator but apparently they are also accepted by the various ministries here.

https://www.singaporetranslators.com/