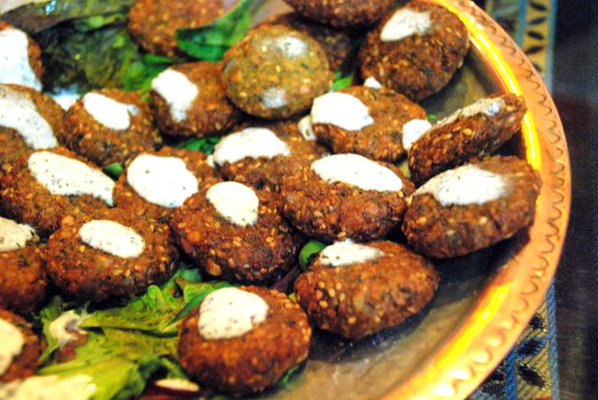 Alaturka

48 / 64
Alaturka offers some of the best Turkish and Mediterranean cuisines in Singapore, serving a tantalising collection of dishes that are suitable for fine dining and group gatherings. It presents a selection of hot and cold appetizers, Turkish pizzas, grilled meats, house specialities and many other dishes, so there is something for everyone on the menu.Located along Bussorah Street, Alaturka provides an intimate and tranquil atmosphere to make one's dining experience relaxed and truly memorable.Alaturka is a purveyor of fine Mediterranean dining from esteemed Turkish Chefs. They make every dish with meticulous preparation using only top quality ingredients to bring out the right balance of flavours.MUST TRY: Items to look forward to includes Somon Steak, Tas Kebab, Musakka Chicken, Falafel and a lot more. Wrap up your meal with some mouth-watering desserts such as Baklava and Krem Karamel.They also offer beverages such as soft drinks, juices, tea and coffee, which are perfect to complement your meal.
Hours:

Daily: 11:00 - 23:00
Address:
16 Bussorah Street
Cuisine:
Mediterranean, Middle Eastern, Turkish, Western
Pretty normal..usually more obvious towards the end of the second trimester or third trimester.



Posted in Moms Group
Re: Benefits outweigh the risks of mRNA vaccine?
Let's face it, short-term, there will always be outliers, side-effects, regardless of what vaccine you use, or indeed any medical treatment you apply in general, tried and true included. Clearly though, as of the here and now, statistically, the benefits of mRNA outweigh the risks.

But going .....



Posted in Beauty, Health & Fitness
Re: PR approval chances (applied in 2022)

Is it still necessary for me to keep ICA updated in my pending PR application since I will be receiving a renewed EP from the same employer? e.g. email ICA/etc.) In addition, my base salary will be modestly increased. Is it .....