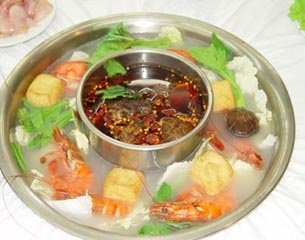 Chong Qing No. 1 Steamboat
重庆第一火锅
0 / 0
Chong Qing No. 1 Steamboat is located in the heart of Chinatown food street and is fully air-conditioned. Our authentic Szechuan spicy steamboat with high quality service has attracted lots of customers. It is suitable for buffet parties or family dinners.

Our steamboat is not only hygienic, safe and healthy, it also possesses a strong Chong Qing flavour. We have specially trained chefs to ensure this authentic taste. The steamboat comes with more than 90 types of steamboat ingredients. These include fresh prawns, crabs, beef, mutton, fish, pork, pig kidney, beef tripe, ox stomach, shells etc. We have vegetables too, such as broccoli, shitake mushroom, lettuce and beancurd etc, ensuring a balanced diet for you.

In order to provide more varieties of food choice, we also offer handmade dumplings, wantons and appetizers such as braised beef, pig's trotter, fried chicken wings, spicy bamboo shoots, shredded spicy seaweeds, spicy cucumber and Szechuan noodles etc. It is definitely value for money to have your buffet here.

We have awards and recommendations from LianHe ZaoBao, LianHe WanBao, Shin Min Daily News, The Straits Times and The New Paper.
Hours:

Daily: 11:00 - 01:00
Address:
54 Smith Street
Cuisine:
Asian, Chinese, Local, Sichuan, Singaporean

How are they married and separated at the same time? Do you mean they're in the separation period before divorce? Because if so, I'm not quite sure that .....



Posted in General Discussions
Lol, dude, the least you can do is to change the content. Not just replacing the word men to women. :-k

Anyway, I have not met any women who cheated their partner yet, and what is IME women? I have never heard of that before. :-k

Cheers
You're either very young or .....



Posted in General Discussions
To all women

This is a sensitive topic to talk about and yet not a foreign topic. But I do want know why women cheat on their partner (bf, husband, companion), and yes, I am a male who write this topic. I asked because some women in my circle do that. Just to be clear, not all women .....



Posted in General Discussions