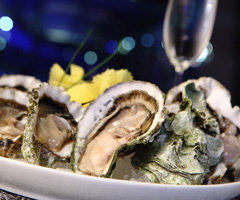 Oyster Bar

14 / 29
Oyster Bar is a European seafood bar specializing in fresh oysters from around the world - France, Japan, New Zealand, Ireland and Canada, as well as salmon, caviar and champagne. It is located on Collyer Quay, overlooking the Marina Bay waterfront with a view of the Marina Bay Sands Casino.
Hours:

Mon - Wed: 11:30 - 14:00
Mon - Wed: 18:00 - 23:30
Thu - Fri: 11:30 - 01:00
Sat: 15:00 - 23:30
Sun: 13:30 - 22:00
Address:
70 Collyer Quay, #01-01 Customs House
There's always the option to send the pet first on another airline as cargo, get a trusted family member to take care of the pet while you fly over on your preferred airline.

A research fellow I knew sent her cat back to the US first while she was finishing up her employment contract here. Cat .....



Posted in Relocating, Moving to Singapore





I'd say, as long as you've got a TnG card with at least RM25 balance at a minimum, you are good to .....



Posted in Travel & Holidays
Re: PR wanna be, would be or will never be. Read this



I doubt PEP helps, although maybe with the new salary threshold it means one is a high earner ($22,500 per .....