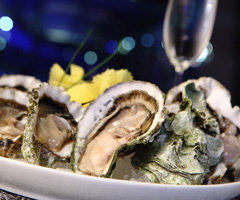 Oyster Bar

14 / 29
Oyster Bar is a European seafood bar specializing in fresh oysters from around the world - France, Japan, New Zealand, Ireland and Canada, as well as salmon, caviar and champagne. It is located on Collyer Quay, overlooking the Marina Bay waterfront with a view of the Marina Bay Sands Casino.
Hours:

Mon - Wed: 11:30 - 14:00
Mon - Wed: 18:00 - 23:30
Thu - Fri: 11:30 - 01:00
Sat: 15:00 - 23:30
Sun: 13:30 - 22:00
Address:
70 Collyer Quay, #01-01 Customs House
Lisa, yes, taking Grab is doable and I have done that too. Works great if you are only going to be within JB. If you have to drive further, like we did to my in laws town, Seremban, then obviously Grab won't help.



Posted in Travel & Holidays



Lisa, that sounds interesting. Might have to try that but first I need to buy a steamer,, .....



Posted in Beauty, Health & Fitness




You are right. It's been on my to do list for a year or two, but thanks to covid I stayed as far away from hospitals as I could. I had a full .....



Posted in Beauty, Health & Fitness