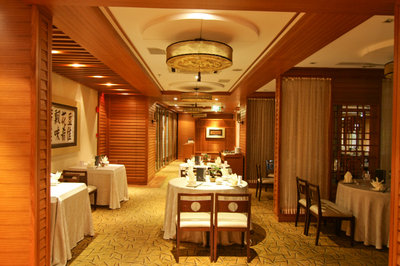 Si Chuan Dou Hua Restaurant
四川豆花饭庄
12 / 14
Si Chuan Dou Hua Restaurant offers some of the best Chinese cuisine in Singapore, serving a tantalising collection of dishes that are suitable for fine dining and special events. Indulge in a wide array of mouth-watering delicacies such as Roast Suckling Pig, nutritious double boiled soups, and exquisite handcrafted dim sum, specially prepared by their well-honed chefs.Located at PARKROYAL on Kitchener Road, this elegant restaurant provides an intimate and tranquil atmosphere to make one's dining experience relaxed and truly memorable.Si Chuan Dou Hua is known for the quality and authenticity of its Sichuan and Cantonese dishes. As you dine in this restaurant, witness and admire the deft skills of the Tea Masters who combines martial arts, dance and showmanship in the traditional art of tea pouring.MUST TRIES: Expect indulgent signatures such as the famous Ma Po Tofu, Sichuan Dan Dan Noodle, Camphor Tea Smoked Duck, Chong Qing Diced Chicken with Dried Chilli, and the deliciously nutritious Minced Chicken Soup with Fungus to name a few.
Hours:

Mon - Fri: 11:30 - 14:30
Mon - Fri: 18:30 - 22:30
Sat, Sun & PH: 11:30 - 16:00
Sat, Sun & PH: 18:30 - 22:30
Address:
181 Kitchener Road, Level 3 PARKROYAL On Kitchener Road
Re: PR Approval Probability 2022
Maybe it depends on their area of research. Anyway, I guess the take away is that there are some factors which might give you an edge, but still nothing is guaranteed.



Posted in PR, Citizenship, Passes & Visas for Foreigners
Re: PR Approval Probability 2022

One small add on - Applicants with research/PHD background are in a totally different bucket which will likely give them an edge. Not saying everyone will get it, but many would.

Hate to burst your bubble but I feel PhD .....



Posted in PR, Citizenship, Passes & Visas for Foreigners
Re: PR Approval Probability 2022

Additionally, SF, I am guessing that doctors are also not going to be thrown into the same bucket as IT professionals. The former I think are far more scarce and the latter are a dime a dozen.


Surely, yes. There will be .....