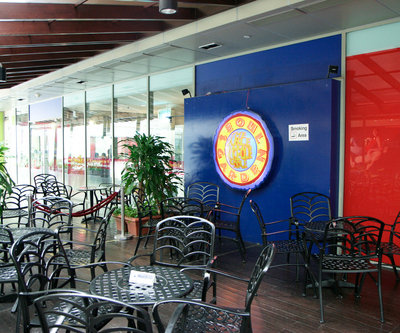 Seoul Garden Hotpot

2 / 5
The HungryGoWhere team is here to help you. Listed below are this eatery's available take-away and delivery options.

Delivery:
Seoul Garden Hotpot is offering delivery via the following options:
https://order.seoulgardengroup.com/?fbclid=IwAR1oIfpkjO2j2z2KZZZ5P8MQ_NqumqY1vC-Pzv10ZNbYl6o0u6LuVkQnqY8

Take-away:
Seoul Garden Hotpot is offering take-away via the following options:
https://order.seoulgardengroup.com/?fbclid=IwAR1oIfpkjO2j2z2KZZZ5P8MQ_NqumqY1vC-Pzv10ZNbYl6o0u6LuVkQnqY8

Seoul Garden Hotpot offers some of the best Korean cuisine in Singapore, serving a tantalising collection of dishes that are suitable for comforting solo meals or group gatherings. The menu features a variety of light bites, Japchae, Bibim Bap, Ginseng Chicken, Hotpot Kimchi, Hotpot Miso, and many more.Located at Harbourfront Centre along Maritime Square, Seoul Garden Hotpot provides a casual and friendly atmosphere. It is the perfect place to visit to satisfy your Korean food cravings where you can enjoy delectable dishes at affordable prices!MUST TRIES: Items to look forward to include Korean Stir-fried Seafood Glass Noodle, Beef Bulgogi Bap, Ginseng Chicken, Marinated Beef Kimchi HotPot, Seafood Miso HotPot, Personal Army Stew, and a lot more.
Hours:

Daily: 11:30 - 22:30
Address:
1 Maritime Square, #02-03/04 Harbourfront Centre
Cuisine:
Asian, Halal, Korean, Local, Singaporean


I read that appealing would need to be based on my circumstance at that point in time when I applied so even if my pay increases by 500 this year, it won't be considered a .....



Posted in PR, Citizenship, Passes & Visas for Foreigners
Nationality make a difference. You'll be surprised. If one is Ukrainian or Russian, be prepared for rejection on first try. You seem to be very secretive about your nationality.

1. It saves on application fee if you apply once compared to applying twice. Having a kid shows .....



Posted in PR, Citizenship, Passes & Visas for Foreigners
Re: STVP days after EP Cancellation

Can somebody else confirm the above poster's statement about end of EP STVP? This is good news.

News only (not firsthand) but appears to be the case?

Both women are racing against the clock to find a new job in .....