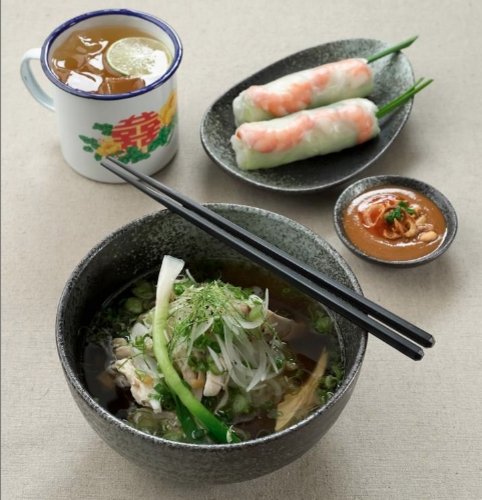 Nam Nam Noodle Bar

46 / 75
THE BUZZ:Nam Nam Noodle Bar is one of the most popular Vietnamese restaurants in Singapore that offers a memorable dining experience with their menu featuring delicious and authentic Vietnamese cuisine. They serve a variety of noodles, including Vietnam's famous pho, as well as savoury baguettes known as banh mi.
Located atRaffles City Shopping Centre and just a few minutes away fromCity Hall MRT Station, this casual quick-service noodle bar is a great place where families and friends can share and enjoy Vietnamese recipes at affordable prices.
MUST TRY:Items to look forward toincludeHanoi Pho, Banh Mi, classic Vietnamesenoodlesuch as Spicy Minced Meat Pork Balls Noodle and Soy Braised Chicken Noodles with Pork, Mekong Prawn Rolls, and a lot more.
Hours:

Daily: 08:00 - 22:00
Address:
252 North Bridge Road, #B1-47 Raffles City Shopping Centre
Cuisine:
Asian, Vietnamese
Pretty normal..usually more obvious towards the end of the second trimester or third trimester.



Posted in Moms Group
Re: Benefits outweigh the risks of mRNA vaccine?
Let's face it, short-term, there will always be outliers, side-effects, regardless of what vaccine you use, or indeed any medical treatment you apply in general, tried and true included. Clearly though, as of the here and now, statistically, the benefits of mRNA outweigh the risks.

But going .....



Posted in Beauty, Health & Fitness
Re: PR approval chances (applied in 2022)

Is it still necessary for me to keep ICA updated in my pending PR application since I will be receiving a renewed EP from the same employer? e.g. email ICA/etc.) In addition, my base salary will be modestly increased. Is it .....