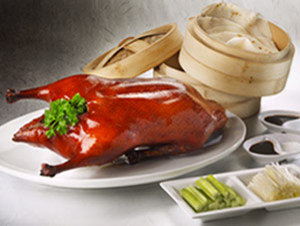 Imperial Treasure Super Peking Duck

12 / 18
Imperial Treasure Super Peking Duck offers some of the best Chinese cuisines in Singapore, serving a tantalising collection of dishes that are suitable for business dining or group gathering. From vegetable option to special set menu, every dish is reflective of the restaurant's efforts to cater to every palate.This restaurant is located at Asia Square Tower 1 and boasts not only their food but their beautifully designed interior as well.Diners can experience the richness of Chinese culinary heritage presented in superior quality doubled with impeccable service at Imperial Treasure Super Peking Duck Restaurant. Each whole duck is roasted to crisp perfection by skilled chefs and sliced on the platter before your eyes.MUST TRY: Expect indulgent signatures such as Roasted Peking Duck, Poached Soon Hock Fillet with Tianjin White Cabbage in Chicken Broth and Sautéed Shark's Fin With Egg.
Hours:

Daily: 11:30 - 14:30
Daily: 18:00 - 22:00
Address:
8 Marina View, #02-08/09/10 Asia Square Tower 1

Here is my Vietnamese wife status. As a Singaporean born and raised, I am a true blue citizen.

First LTVP application: 1 year LTVP
First LTVP renewal: 3 years LTVP plus

The first application was rejected after 7 months, the appeal .....



Posted in PR, Citizenship, Passes & Visas for Foreigners


Actually, among other things, there are plenty of Chinese schools in Malaysia where the medium of instruction is Mandarin. My wife is from one such school. As are many Malaysian Chinese you see in Singapore. This includes many who are .....



Posted in General Discussions

This is a bit off topic, but I just came to know that in Malaysia, their entire education is in Malay language. My Malaysian chinese colleague who has now turned into a Singaporean told me, she did her primary education in Chinese language .....



Posted in General Discussions