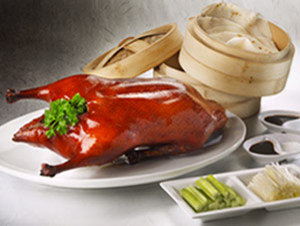 Imperial Treasure Super Peking Duck

12 / 18
Imperial Treasure Super Peking Duck offers some of the best Chinese cuisines in Singapore, serving a tantalising collection of dishes that are suitable for business dining or group gathering. From vegetable option to special set menu, every dish is reflective of the restaurant's efforts to cater to every palate.This restaurant is located at Asia Square Tower 1 and boasts not only their food but their beautifully designed interior as well.Diners can experience the richness of Chinese culinary heritage presented in superior quality doubled with impeccable service at Imperial Treasure Super Peking Duck Restaurant. Each whole duck is roasted to crisp perfection by skilled chefs and sliced on the platter before your eyes.MUST TRY: Expect indulgent signatures such as Roasted Peking Duck, Poached Soon Hock Fillet with Tianjin White Cabbage in Chicken Broth and Sautéed Shark's Fin With Egg.
Hours:

Daily: 11:30 - 14:30
Daily: 18:00 - 22:00
Address:
8 Marina View, #02-08/09/10 Asia Square Tower 1
Re: Any Phuket recommendations?


Would love to see some trip itineraries if anyone has some... Planning a 3 week honeymoon there and don't really know where to start!

Not knowing .....



Posted in General Discussions
Re: Interpol red Notice for misappropriating $88k

Didn't I read somewhere that they were looking at changing the law so that when buying a property the money doesn't flow through the lawyer's hands?


I think the whole Conveyancing process of purchasing property is super .....



Posted in General Discussions
Re: PR Approval Probability 2022

So if integration was a big factor, we should have seen average achievers from the non prefered race also get PRs approved. But that hasnt been the case.

You have to understand the forum is already biased in the first place.Those .....