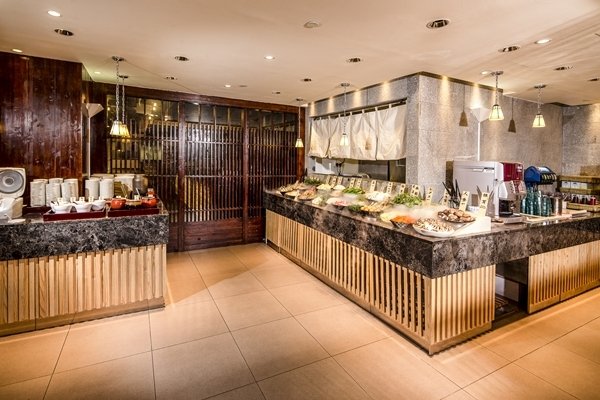 Shabu Sai

5 / 7
Shabu Sai offers some of the best Japanese and Asian Fusion cuisine in Singapore, serving a tantalising collection of dishes that are suitable for family gatherings, large groups, catching up with friends and colleagues. From Bak Kut Teh to Herbal Duck Pot its extensive menu is reflective of the restaurant's efforts to cater to every palate.This restaurant is located in Changi City Point along Changi Business Park Central 1. Shabu Sai is an authentic Japanese restaurant that offers all-you-can-eat shabu-shabu and Sukiyaki buffet.Operated by Creative Restaurants Holdings, this dining establishment is spacious, brightly lit, and features a wide variety of food choices that will appeal to the masses.MUST TRY:As this is a free-flow buffet, trying a bit of everything is key to an enjoyable time here. There are more than 30 types of vegetables and side essentials like eggs, noodles, and tofu, which complement the soup bases and meat galore. Have fun indulging in endless trays of chicken, beef, and pork.Indulge in their mouth-watering dishes such as Mala Chicken Soup, Sweet and Sour Assam Curry, Spicy Miso Soy Hotpot and Tonkotsu Kimchi.
Hours:

Mon - Fri: 11:00 - 15:00
Mon - Fri: 18:00 - 22:00
Sat - Sun: 11:30 - 22:30
Address:
5 Changi Business Park Central 1, #B1-28/29 Changi City Point
There's always the option to send the pet first on another airline as cargo, get a trusted family member to take care of the pet while you fly over on your preferred airline.

A research fellow I knew sent her cat back to the US first while she was finishing up her employment contract here. Cat .....



Posted in Relocating, Moving to Singapore





I'd say, as long as you've got a TnG card with at least RM25 balance at a minimum, you are good to .....



Posted in Travel & Holidays
Re: PR wanna be, would be or will never be. Read this



I doubt PEP helps, although maybe with the new salary threshold it means one is a high earner ($22,500 per .....