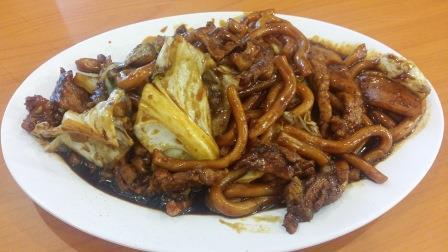 Chinatown Traditional Kitchen

9 / 9
The eating house decors provide the reminiscence of the past kopitiam of the early Chinatown in the luxury of modern air conditioning.Apart from the freshly brewed hot coffee and tea, we serve the most traditional Singaporean home cooked dishes just like in the 60swhere our early immigrants came to settle in Chinatown of then Singapura. The wide varieties of simple dishes evolved from recipes of our grandmother's era. The kitchen serves a buffet of various local dishes neatly displayed in warm servers during the lunch hours along with homebrewed chinese herbal drinks to beat the afternoon heat.Breakfast starts at 8am, lunch & dinner from 11am to 11pm.
We serve a menu of the freshly cooked local delicacies straight from our kitchen. Our Kitchen is well situated in the heart of Chinatown adjourning our co-owned 'Backpackers Inn Chinatown' and 'Cow & Coolies karaoke bar' bearing similar retrolicion.
Hours:

Daily: 08:00 - 00:00
Address:
28 Mosque Street
Re: the "not whiskey" about malaysia

i'm going to seek the wisdom of those wiser than me before i reply the earlier messages.

i'm somewhat at a cross road.

my child's mom wanted a divorce but then changed her mind, somewhat. i wanted a divorce weeks after she brought .....



Posted in Leisure Chat, Jokes, Rubbish
Re: the "not whiskey" about malaysia
medical care is cheaper and probably is just as good. i saw a specialist here a few months ago.

there's a thomson medical hospital about 15 minutes away from my place. sunway specialist center is about 10 minutes away.

but i get to do other things in sg when i head back.

also, the drive is .....



Posted in Leisure Chat, Jokes, Rubbish
Re: the "not whiskey" about malaysia
The agent was probably referring to the Sarawak MM2H. They're still on the previous requirements, way more feasible. Ditto Sabah btw.

Either way, the current Putrajaya nose-bleed requirements are going to be reversed back to something similar to the previous version any day now. I reckon you .....



Posted in Leisure Chat, Jokes, Rubbish