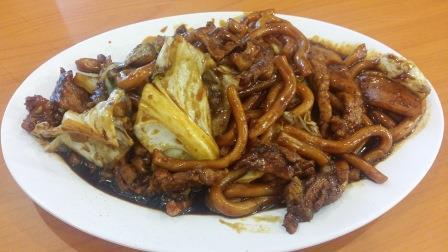 Chinatown Traditional Kitchen

9 / 9
The eating house decors provide the reminiscence of the past kopitiam of the early Chinatown in the luxury of modern air conditioning.Apart from the freshly brewed hot coffee and tea, we serve the most traditional Singaporean home cooked dishes just like in the 60swhere our early immigrants came to settle in Chinatown of then Singapura. The wide varieties of simple dishes evolved from recipes of our grandmother's era. The kitchen serves a buffet of various local dishes neatly displayed in warm servers during the lunch hours along with homebrewed chinese herbal drinks to beat the afternoon heat.Breakfast starts at 8am, lunch & dinner from 11am to 11pm.
We serve a menu of the freshly cooked local delicacies straight from our kitchen. Our Kitchen is well situated in the heart of Chinatown adjourning our co-owned 'Backpackers Inn Chinatown' and 'Cow & Coolies karaoke bar' bearing similar retrolicion.
Hours:

Daily: 08:00 - 00:00
Address:
28 Mosque Street
Pretty normal..usually more obvious towards the end of the second trimester or third trimester.



Posted in Moms Group
Re: Benefits outweigh the risks of mRNA vaccine?
Let's face it, short-term, there will always be outliers, side-effects, regardless of what vaccine you use, or indeed any medical treatment you apply in general, tried and true included. Clearly though, as of the here and now, statistically, the benefits of mRNA outweigh the risks.

But going .....



Posted in Beauty, Health & Fitness
Re: PR approval chances (applied in 2022)

Is it still necessary for me to keep ICA updated in my pending PR application since I will be receiving a renewed EP from the same employer? e.g. email ICA/etc.) In addition, my base salary will be modestly increased. Is it .....