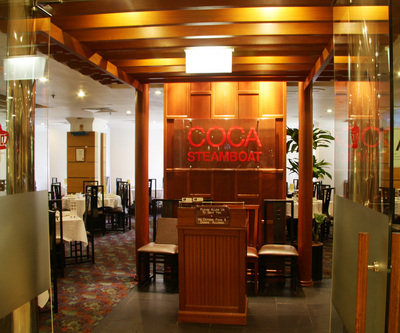 Coca

0 / 1
Cocaoffers some of the best Thai Cuisine serving a tantalising collection of dishes that are suitable for family, large groups, catching up with friends and colleagues. From Chicken Soup to Char Siew its extensive menu is reflective of the restaurant's efforts to cater to every palate.
This restaurant is located in Ngee Ann City along Orchard Road. This Thai restaurant chain is a household name in Singapore, well-known for its signature Coca sauce, made from a secret family recipe over 50 years ago. Besides the buffet steamboat menu, there are also signature dishes like the original fish glue, house special dumpling and other seafood dishes to sample.MUST TRY: Indulge in their mouth-watering dishes such as Tom Yum Soup, Meat and Chicken Rice.
Address:
391 Orchard Road, #04-23 Ngee Ann City
Cuisine:
Asian, Chinese, Local, Singaporean, Steamboat, Thai





What do you mean 4 lines? It is just a table, with each person added to the application in a separate row and the .....



Posted in PR, Citizenship, Passes & Visas for Foreigners
Re: Spending majority of year in Sing as a Retired Tourist?

TBH, I can't imagine spending the majority of the year in Sing as a retired tourist. What in the world would you do with your time? Unless you have family here or something?


How would it be any more boring here than any .....



Posted in Relocating, Moving to Singapore
Most newcomers to this forum are phony, so you'll have to do better than hello.



Posted in Entertainment, Leisure & Sports