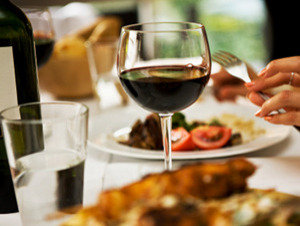 IL Fiore Ristorante Italiano

9 / 17
The HungryGoWhere team is here to help you. Listed below are this eatery's available take-away and delivery options.

Delivery:
IL Fiore Ristorante Italiano is offering delivery via the following options:
https://deliveroo.com.sg/menu/singapore/boat-quay/il-fiore-restaurant-and-bar-dungeon?utm_medium=affiliate&utm_source=google_maps_link

Take-away:
IL Fiore Ristorante Italiano is offering take-away via the following options:
Walk in
Marukyu offers some of the best Italian cuisines in Singapore, serving a tantalising collection of dishes that are suitable for family gatherings, large groups, catching up with friends and colleagues. From Suckling Pig to Penne with Grilled Sole Fish its extensive menu is reflective of the restaurant's efforts to cater to every palate.This restaurant is located in Singapore Land Tower along Raffles Place. IL Fiore Ristorante Italiano has a menu of Italian fare, as you'd expect, but it also serves a lot of local food that isn't listed on the menu.MUST TRY: Indulge in their mouth-watering dishes such as Sambal Sotong with Rice and Sunny Side Up, Luncheon Meat and Omelette Sando, Prosciutto De Parma with Rock Melon, Chicken Cubes in Savory Gravy, and Tenderloin Beef Cubes.
Hours:

Mon - Fri: 11:00 - 23:00
Closed: Sat, Sun & PH
Address:
50 Raffles Place, #B1-01 Singapore Land Tower
Re: PEP processing time (personal employment pass)
Congrats !!!! I provided the documents they asked ( 3 month payslips) on March 20 but still pending now....... maybe 6 month payslips is better? Feeling tired..


Anyone know .....



Posted in Relocating, Moving to Singapore

I do feel like in cases like this, where the whole family is made up of citizens, including children, it would be hard not to grant. To do so would be to contradict singapore's family centric values, which I don't see .....



Posted in PR, Citizenship, Passes & Visas for Foreigners
Re: Malaysian citizenship application
Thanks for your response. Just worry the chance after being married will be lower.