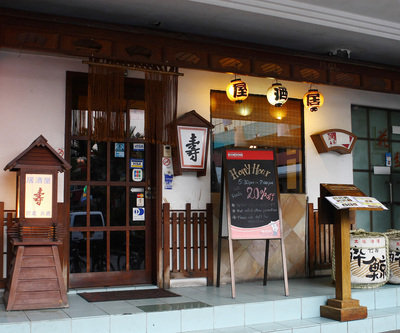 Kotobuki Japanese Restaurant

10 / 19
The HungryGoWhere team is here to help you. Listed below are this eatery's available take-away and delivery options.

Delivery:
Kotobuki Japanese Restaurant is offering delivery via the following options:
https://iorder.aptsys.com.sg/498/902/menu

Take-away:
Kotobuki Japanese Restaurant is offering take-away via the following options:
https://iorder.aptsys.com.sg/498/902/menu

THE BUZZ:Kotobuki Japanese Restaurant offers some of the best Japanese cuisine in Singapore, serving a tantalising collection of dishes that are suitable for casual dining and group gatherings. It presents an array of sashimi, sushi & maki sushi, salad, teishoku, yakimono, curry, and many more, so there is something for everyone on the menu.Located along Yuan Ching Road, this Japanese restaurant provides a typical Kanto cuisine delivered in a casual yet elegant Izakaya style setting.Kotobuki's culinary team is led by Master Chef Murata Tomoya. Specialising in Izakaya or casual dining and the famous Kyoto-style of cooking, Murata Tomoya is also a master of creating exquisite traditional multi-course Japanese dinners. Kotobuki's Executive Chef, Ogura Hiromi, area of focus lies in Kaiseki or fine dining and Nagoya cuisine. He demonstrates a high degree of precision in his preparation in addition to offering up tasty Japanese specialties.
MUST TRY:Items to look forward to include Nami Sashimi, California Maki, Salmon Sushi, Sashimi Salad, Agedashi Tofu, Chicken Teriyaki Wazen, Japanese Beef Steak Set, Ebi Tempura Set, and a lot more.
Hours:

Daily: 11:30 - 14:30
Daily: 17:30 - 22:30
Address:
3 Yuan Ching Road
Re: Timeline of my husband's initial PMLA and LTVP and renewals, then finally PR!


let's say it is approved in March and given a 1-year LTVP, will the expiry date of the new LTVP be May 2024 or March 2024?

Expiry date is based on when you go down to .....



Posted in PR, Citizenship, Passes & Visas for Foreigners
Re: My Nightmare Experience with a Property Agent
It's to the advantage of the local and expat landlord population.

Only when we see someone notable and embarrassing for the Singapore govt stitched up will this change. This is partly why local landlords are not keen to rent to certain parties who have influence.



Posted in Property Talk, Housing & Rental
Re: Will Darlie toothpaste be next?
I remember when that blew up over here. In fact, if we search the archives here around 2016 or 17 I believe there was a thread on it as well.


Italy responded! https://www.youtube.com/watch?v=0bDqAkgAblI



Posted in Leisure Chat, Jokes, Rubbish