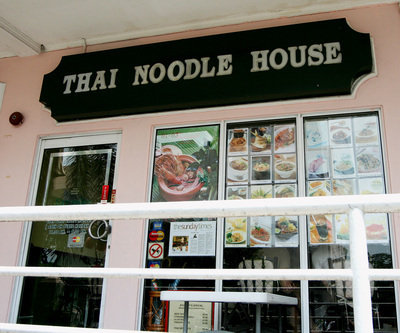 Thai Noodle House

35 / 78
Thai Noodle House offers some of the best Thai Cuisine serving a tantalising collection of dishes that are suitable for family, large groups, catching up with friends and colleagues. From Garlic Prawn to Claypot Tang Hoon its extensive menu is reflective of the restaurant's efforts to cater to every palate.
This restaurant is located in Coronation Arcade along Coronation Road. Come and try out their delicious dishes with your friends and family!MUST TRIES: Indulge in their mouth-watering dishes such as Green Curry with Prawn, Beef Noodle Soup, Braised Pork Knuckles with Rice, Tom Yum and Dry Beef Noodle.
Hours:

Tue - Sun: 11:30 - 21:30
Closed: Mon
Address:
5 Coronation Road, #01-03 Coronation Arcade
Cuisine:
Asian, Indochinese, Thai
Re: How to actually move out of SG
We've applied for aid because tuition is crazy even if you're making several hundred thousand a year.

I've never heard of Trulia, I've only used realtor.com and Zillow in the past, just to monitor prices. I'm assuming once we get there we'll need to use a realtor, which I'm not too concerned .....



Posted in General Discussions
Re: How to actually move out of SG



Right, but since I'm not of age to withdraw it yet, wouldn't renouncing my PR allow me to access it .....



Posted in General Discussions
Re: Citizenship Approval Chances

The only money they can see is that which is held in government ministries (CPF which you don't have yet). Private banking is not available to them except in the case of a legal battle which in not in the purview of ICA. They .....