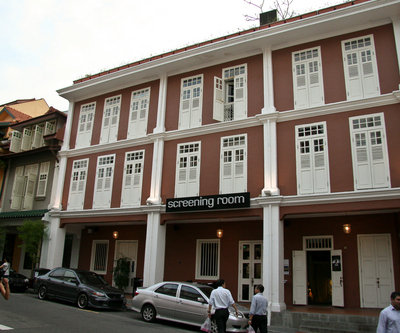 Screening Room

12 / 21
THE BUZZ: Screening Room offers some of the best Western Cuisine serving a tantalising collection of dishes that are suitable for family, large groups, catching up with friends and colleagues.This restaurant is located in Tanjong Pagar along Ann Siang Road. The Screening Room consists of a rooftop bar with a view over Chinatown, and a boutique theatre on level three. The rooftop bar, reopened in May 2015, now features trendy, well-spiced finger foods and more than just run-of-the-mill cocktails.
Hours:

Closed: Sun & PH
Mon - Thu: 18:00 - 01:00
Fri - Sat: 18:00 - 03:00
Address:
12 Ann Siang Road
Cuisine:
Mediterranean, Western
Re: PEP processing time (personal employment pass)
Just wanted to share my experience in case anyone has any advice -

I'm looking at week #11 of PEP under processing. Thought I'd give it a couple more weeks, called MOM last week and got an expedition case number but my status still shows as " Pending"

Am currently employed at a senior role in a .....



Posted in Relocating, Moving to Singapore
No food (in isolation) can make you fat. It's eating more calories than you burn that will cause weight gain.



Posted in Beauty, Health & Fitness
I've been drinking sugarcane everyday for the past 2 weeks and wondered - would sugarcane make you fat?



Posted in Beauty, Health & Fitness