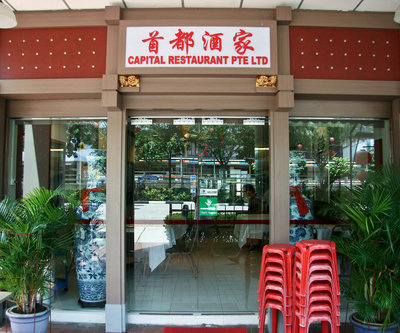 Capital Restaurant

6 / 8
Capital Restaurant offers some of the best Chinese Cuisine serving a tantalising collection of dishes that are suitable for family gatherings, large groups, catching up with friends and colleagues. From Crab Roe Noodle to Hairy Crab its extensive menu is reflective of the restaurant's efforts to cater to every palate.This restaurant is located in Bukit Pasoh Conservation Area along New Bridge Road. Long known for its Cantonese cuisine, Capital Restaurant has more recently distinguished itself by serving Shanghai hairy crabs all year round.MUST TRY: Indulge in their mouth-watering dishes such as Classic Duck Stuffed with Chestnuts and Herbs, Three Egg Vegetables and Yangzhou Fried Rice.
Hours:

Daily: 11:30 - 14:30
Daily: 17:30 - 22:00
Address:
323 New Bridge Road
Re: Spending majority of year in Sing as a Retired Tourist?

TBH, I can't imagine spending the majority of the year in Sing as a retired tourist. What in the world would you do with your time? Unless you have family here or something?


How would it be any more boring here than any .....



Posted in Relocating, Moving to Singapore
Most newcomers to this forum are phony, so you'll have to do better than hello.



Posted in Entertainment, Leisure & Sports



Something new I heard today is of your PR pending shows 4 lines then it's a good chance else it shows 1 or .....