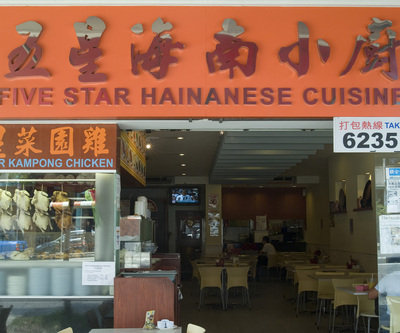 Five Star Hainanese Chicken Rice
五星海南鸡饭
5 / 16
The HungryGoWhere team is here to help you. Listed below are this eatery's available take-away and delivery options.

Delivery:
Five Star Hainanese Chicken Rice is offering delivery via the following options:
https://food.grab.com/sg/en/restaurant/five-star-kampung-chicken-rice-river-valley-road-islandwide-delivery-delivery/SGDD10523
https://www.foodpanda.sg/restaurant/s3fu/five-star-kampung-chicken-rice-kitchen-river-valley-
https://deliveroo.com.sg/menu/singapore/orchard/5-star-hainanese-chicken-rice-river-valley-road

Take-away:
Five Star Hainanese Chicken Rice has no take-away options.

Five Star Hainanese Chicken Rice offers some of the best Chinese and Hainanese cuisines in Singapore, serving a tantalising collection of dishes that are suitable for casual dining and group gatherings. Aside from their popular Five Star Kampung Chicken, the menu features a variety of pork, tofu & omelette, seafood, vegetables, soup, rice & noodles, and desserts & beverages.Located along River Valley Road, this casual dining restaurant provides delectable dishes with savoury rice and sauces made in-house from fresh ingredients. You will surely enjoy their honest, hearty, and wholesome offering perfected over many decades.MUST TRY:Expect indulgent signatures such as Kampung Chicken, Sweet & Sour Sliced Fish, Cereal Prawn, and Stir-Fried Four Season Beans with Preserved Radish. Other dishes they offer include Salted Egg Pork Ribs, Hot Plate Tofu, BBQ Stingray, Chilli Crab, and a lot more.
Hours:

Daily: 11:00 - 05:00
Address:
419 River Valley Road
Cuisine:
Asian, Chinese, Hainanese, Local, Singaporean
Re: Portuguese (European) Teacher

Urgently looking for experienced European Portuguese Teacher for an upcoming corporate teaching stint at a language school!

Anyone interested?

That's two. You are very close to being axed. Advertising is not .....



Posted in Careers & Jobs in Singapore
There's always the option to send the pet first on another airline as cargo, get a trusted family member to take care of the pet while you fly over on your preferred airline.

A research fellow I knew sent her cat back to the US first while she was finishing up her employment contract here. Cat .....



Posted in Relocating, Moving to Singapore





I'd say, as long as you've got a TnG card with at least RM25 balance at a minimum, you are good to .....



Posted in Travel & Holidays