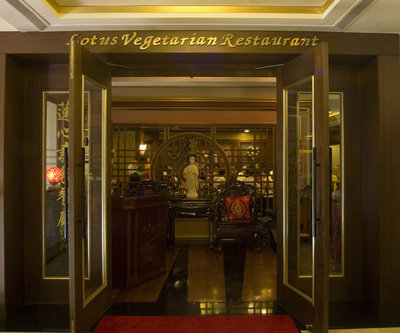 Lotus Vegetarian Restaurant
莲心素食餐厅
16 / 24
Lotus Vegetarian Restaurant offers some of the best Chinese cuisine in Singapore, serving a tantalising collection of dishes that are suitable for family gatherings and large groups. From Dim Sum Noodles to its extensive menu is reflective of the restaurant's efforts to cater to every palate.This restaurant is located in Quality Hotel Marlow along Balestier Road. A renowned establishment boasting a rich 13-year history, Lotus Vegetarian Restaurant is the go to place for the top of the line, quality vegetarian cuisines in Singapore. Boasting a wide array of Asian delicacies in their buffet and a la carte line, Lotus Vegetarian promises to be more than just typical vegetarian cuisine.Lotus Vegetarian also hosts private functions and weddings and their ambience suits anything from casual dinners to romantic getaways. Bond with your family and friends over a sumptuous vegetarian meal that spans from the traditional to the adventurous. The unique concept of Lotus Vegetarian promises to forge an unforgettable dining experience for the individual.MUST TRIES: Indulge in their mouth-watering dishes such as Pumpkin Balls with Yam Stuffing, Signature Carrot Cake, Deep Fried Glutinous Rice Roll and Imperial Treasure Claypot Fish.For their drinks, they offer teas and fresh fruit juices.
Hours:

Daily: 11:30 - 15:00
Daily: 18:00 - 22:00
Address:
201 Balestier Road, #02-00 Quality Hotel Marlow
Cuisine:
Asian, Chinese, Vegetarian
Re: Is it possible to retire in Singapore as PR forever?

...
Just realised I posted the same link in my earlier post. It was mentioned again in parliament the other day (point 62):
https://www.mha.gov.sg/mediaroom/parliamentary/second-reading-of-the-immigration-amendment-bill/

No .....



Posted in PR, Citizenship, Passes & Visas for Foreigners
Re: PR wanna be, would be or will never be. Read this


I doubt PEP helps, although maybe with the new salary threshold it means one is a high earner ($22,500 per month), which may be viewed favourably. Regardless, it looks .....



Posted in PR, Citizenship, Passes & Visas for Foreigners
Re: Is it possible to retire in Singapore as PR forever?


I think removing the right to appeals is very problematic, everybody deserves to have their cases heard.


They still have the avenue mentioned in the article.

"It added that even without the statutory appeal, PR applicants .....