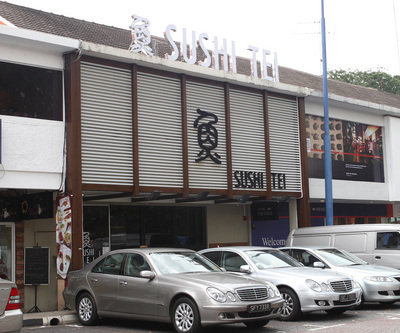 Sushi Tei

16 / 22
The HungryGoWhere team is here to help you. Listed below are this eatery's available take-away and delivery options.

Delivery:
Sushi Tei is offering delivery via the following options:
https://www.foodpanda.sg/restaurant/w0lp/sushi-tei-serangoon-garden-
https://deliveroo.com.sg/menu/singapore/serangoon/sushi-tei-serangoon-garden

Take-away:
Sushi Tei is offering take-away via the following options:
https://www.foodpanda.sg/restaurant/w0lp/sushi-tei-serangoon-garden-

Sushi Tei offers some of the best Japanesecuisinesin Singapore, serving atantalisingcollection of dishes that are suitable for casual dining and group gatherings. The menu features a variety of specialty roll, Japanese wagyu and pork from Kagoshima, sashimi, sushi, salad, temaki, andmanymore.Located along Serangoon Garden Way, Sushi Tei provides a warm and invitingambiencethat brings guests in a truly authentic Japanese culinary experience.Sushi Tei aims to provide satisfying dishes at good quality and value, using only fresh and top grade ingredients to bring out the right balance offlavours.
MUST TRIES:Items to look forward toincludesKagoshima Wagyu Jumbo Hamburger Steak, Sashimi Salad, Sanshoku Hana Salmon, Spicy Aburi Maguro & Salmon Roll, Edamame, and a lot more.
Hours:

Mon - Thu: 11:30 - 22:00
Address:
64-64A Serangoon Garden Way
Re: PEP processing time (personal employment pass)
Congrats !!!! I provided the documents they asked ( 3 month payslips) on March 20 but still pending now....... maybe 6 month payslips is better? Feeling tired..


Anyone know .....



Posted in Relocating, Moving to Singapore

I do feel like in cases like this, where the whole family is made up of citizens, including children, it would be hard not to grant. To do so would be to contradict singapore's family centric values, which I don't see .....



Posted in PR, Citizenship, Passes & Visas for Foreigners
Re: Malaysian citizenship application
Thanks for your response. Just worry the chance after being married will be lower.