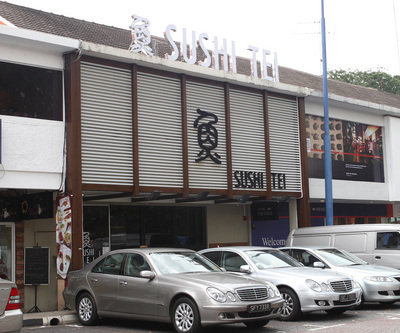 Sushi Tei

16 / 22
The HungryGoWhere team is here to help you. Listed below are this eatery's available take-away and delivery options.

Delivery:
Sushi Tei is offering delivery via the following options:
https://www.foodpanda.sg/restaurant/w0lp/sushi-tei-serangoon-garden-
https://deliveroo.com.sg/menu/singapore/serangoon/sushi-tei-serangoon-garden

Take-away:
Sushi Tei is offering take-away via the following options:
https://www.foodpanda.sg/restaurant/w0lp/sushi-tei-serangoon-garden-

Sushi Tei offers some of the best Japanesecuisinesin Singapore, serving atantalisingcollection of dishes that are suitable for casual dining and group gatherings. The menu features a variety of specialty roll, Japanese wagyu and pork from Kagoshima, sashimi, sushi, salad, temaki, andmanymore.Located along Serangoon Garden Way, Sushi Tei provides a warm and invitingambiencethat brings guests in a truly authentic Japanese culinary experience.Sushi Tei aims to provide satisfying dishes at good quality and value, using only fresh and top grade ingredients to bring out the right balance offlavours.
MUST TRIES:Items to look forward toincludesKagoshima Wagyu Jumbo Hamburger Steak, Sashimi Salad, Sanshoku Hana Salmon, Spicy Aburi Maguro & Salmon Roll, Edamame, and a lot more.
Hours:

Mon - Thu: 11:30 - 22:00
Address:
64-64A Serangoon Garden Way

How are they married and separated at the same time? Do you mean they're in the separation period before divorce? Because if so, I'm not quite sure that .....



Posted in General Discussions
Lol, dude, the least you can do is to change the content. Not just replacing the word men to women. :-k

Anyway, I have not met any women who cheated their partner yet, and what is IME women? I have never heard of that before. :-k

Cheers
You're either very young or .....



Posted in General Discussions
To all women

This is a sensitive topic to talk about and yet not a foreign topic. But I do want know why women cheat on their partner (bf, husband, companion), and yes, I am a male who write this topic. I asked because some women in my circle do that. Just to be clear, not all women .....



Posted in General Discussions