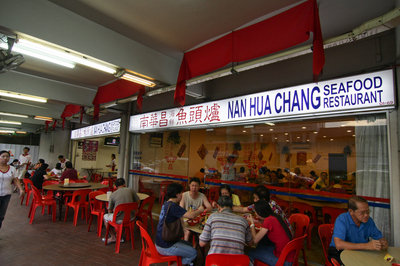 Nan Hua Chang Seafood Eating House

6 / 15
Nan Hua Chang Seafood Eating House offers some of the best Chinese Cuisine serving a tantalising collection of dishes that are suitable for family, large groups, catching up with friends and colleagues. From Fish Head Steamboat to Pomfret Charcoal Steamboat Dinner its extensive menu is reflective of the restaurant's efforts to cater to every palate.
This restaurant is located in Bugis along Crawford Lane. Come and try out their delicious dishes with your friends and family!MUST TRY: Indulge in their mouth-watering dishes such as Fermented Beancurd Crispy Roast Pork Chop, Mei Cai Kou Rou and Fish Soup.
Hours:

Daily: 17:00 - 01:00
Address:
462 Crawford Lane
Hi I wouldn't do that coz, as i said earlier its not the sole reason. I don't want to mislead anyone.

Thanks



Posted in PR, Citizenship, Passes & Visas for Foreigners
Hi, Is it possible to share what kind of commercial property U bought?. I am interested in buying small scale commercial properties.



Posted in PR, Citizenship, Passes & Visas for Foreigners
HELP! Landlord Refuses to Return Deposit
Hi guys,

To provide some context, I am currently based and will still be based in Singapore moving forward. I have just ended a 4 years (split into 2 tenancy contracts due to renewals) residential tenancy in Singapore with my landlord, a Singaporean. It was rented out fully furnished

During the .....



Posted in Property Talk, Housing & Rental