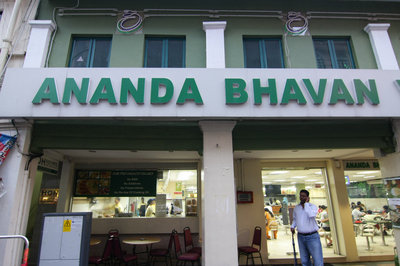 Ananda Bhavan Restaurant

6 / 8
Ananda Bhavan Restaurant offers some of the best Indiancuisinein Singapore, serving atantalisingcollection of dishes that are suitable for casual dining and group gatherings. Prepared using only the freshest and most delicious ingredients, every dish in the menu is bound to satisfy your taste buds.
Located along Syed Alwi Road, this Indian vegetarian restaurant provides a casual and relaxed atmosphere where families and friends can enjoy delicious and healthy food that will surely deliver a memorable dining experience and gastronomic indulgence.
MUST TRY:Items to look forward toincludeBiryani, Pepper Rasam, Naan, Vadai, Chapathi, and a lot more.
Hours:

Daily: 24 Hours -
Address:
95 Syed Alwi Road
Cuisine:
Asian, Indian, North Indian, South Indian, Vegetarian
Re: Service apartment for long term stay

There is one called Great World City Service Apartment. It is in the city center and is connected to mall, supermarket and Subway station. I stayed there when I came first to Singapore 7 years before.


I know several people .....



Posted in Relocating, Moving to Singapore

Hi All,
I moved to a landed property about 1.5 years ago. Three weeks after we moved in, the landlord sold the property. As we had a two-year lease, we were not concerned. The new landlord came to meet us and let us know that they would .....



Posted in Property Talk, Housing & Rental
Posted in Property Talk, Housing & Rental