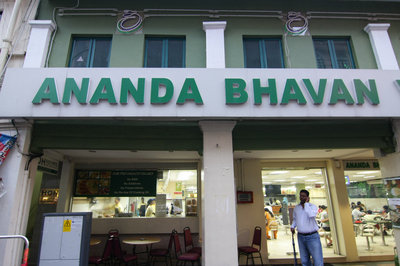 Ananda Bhavan Restaurant

6 / 8
Ananda Bhavan Restaurant offers some of the best Indiancuisinein Singapore, serving atantalisingcollection of dishes that are suitable for casual dining and group gatherings. Prepared using only the freshest and most delicious ingredients, every dish in the menu is bound to satisfy your taste buds.
Located along Syed Alwi Road, this Indian vegetarian restaurant provides a casual and relaxed atmosphere where families and friends can enjoy delicious and healthy food that will surely deliver a memorable dining experience and gastronomic indulgence.
MUST TRY:Items to look forward toincludeBiryani, Pepper Rasam, Naan, Vadai, Chapathi, and a lot more.
Hours:

Daily: 24 Hours -
Address:
95 Syed Alwi Road
Cuisine:
Asian, Indian, North Indian, South Indian, Vegetarian
If you want to redefine marriage, then can two BFFs marry even though it's a totally platonic relationship?



Posted in General Discussions
Most commercial fish and chips use Cod.



Posted in General Discussions



But nobody is desecrating marriage, there is no intent to tarnish the definition, .....



Posted in General Discussions