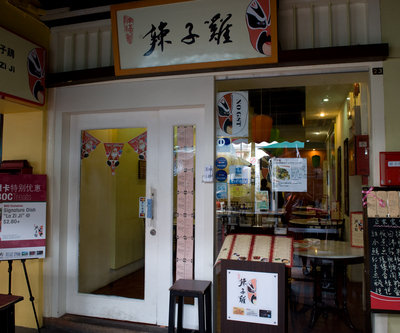 La Zi Ji
辣子鸡
0 / 0
Located at Smith Street, La Zi Ji Sichuan Cuisine is a Chinese restaurant that offers Sichuan cuisine dishes such as their mapo doufu and sichuan boiled fish. Itbuilt its reputation on its imperial golden fried rice, based on a family recipe cooked to perfection. Try the black pepper crab or paper-wrapped chicken, or if you're game for fusion food, there's also prata with crab claw on the menu.
Address:
23 Smith Street
Cuisine:
Asian, Cantonese, Chinese, Local, Singaporean
Re: Shooting at US grocery stores

Always remember, if you outlaw guns, only outlaws will have guns. I wouldn't expect you to understand this, however. It's easier if you only have 500 sq/km to control and no hinterlands. and only 1.887 m population like when .....



Posted in Latest News & Current Affairs
Does anyone requires Gardening service? Like garden and lawn maintenance or even have a makeover for your garden.



Posted in Entertainment, Leisure & Sports
Xeomin and Botox, which one is better?
Xeomin vs. Botox or other other neuromodulators: How do they compare?
"Xeomin differs from its competitors in that it doesn't contain additives, so-called complexing proteins. The way it's manufactured removes accessory proteins from the active ingredient, botulinum toxin type A." people said .....



Posted in Beauty, Health & Fitness