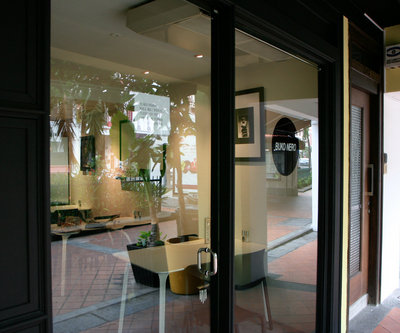 Buko Nero

43 / 55
Buko Nero offers some of the best Italian cuisines in Singapore, serving a tantalising collection of dishes that are suitable for family gatherings and large groups. From Tuna Tartare to Seared Hokkaido Sea Scallop with Truffle Reduction its extensive menu is reflective of the restaurant's efforts to cater to every palate.This restaurant is located along Tanjong Pagar Road. This family-run trattoria serves a stylish Italian menu, some of it with Asian influences. The menu changes regularly and meals are carefully prepared by Chef Oscar. Be prepared to wait for at least a month before you can get a table.MUST TRY: Indulge in their mouth-watering dishes such as Polenta Bruschetta, Homemade Squid Ink Tagliolini with Haddock and Bottarga.
Hours:

Tue - Thu: 18:30 - 21:30
Fri - Sat: 12:00 - 14:00
Fri - Sat: 18:30 - 21:30
Closed: Mon
Closed: Sun
Closed: PH
Address:
126 Tanjong Pagar Road
Re: the "not whiskey" about malaysia

i'm going to seek the wisdom of those wiser than me before i reply the earlier messages.

i'm somewhat at a cross road.

my child's mom wanted a divorce but then changed her mind, somewhat. i wanted a divorce weeks after she brought .....



Posted in Leisure Chat, Jokes, Rubbish
Re: the "not whiskey" about malaysia
medical care is cheaper and probably is just as good. i saw a specialist here a few months ago.

there's a thomson medical hospital about 15 minutes away from my place. sunway specialist center is about 10 minutes away.

but i get to do other things in sg when i head back.

also, the drive is .....



Posted in Leisure Chat, Jokes, Rubbish
Re: the "not whiskey" about malaysia
The agent was probably referring to the Sarawak MM2H. They're still on the previous requirements, way more feasible. Ditto Sabah btw.

Either way, the current Putrajaya nose-bleed requirements are going to be reversed back to something similar to the previous version any day now. I reckon you .....



Posted in Leisure Chat, Jokes, Rubbish