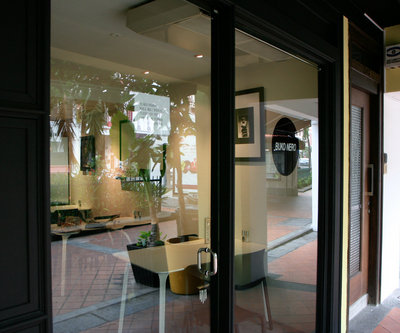 Buko Nero

43 / 55
Buko Nero offers some of the best Italian cuisines in Singapore, serving a tantalising collection of dishes that are suitable for family gatherings and large groups. From Tuna Tartare to Seared Hokkaido Sea Scallop with Truffle Reduction its extensive menu is reflective of the restaurant's efforts to cater to every palate.This restaurant is located along Tanjong Pagar Road. This family-run trattoria serves a stylish Italian menu, some of it with Asian influences. The menu changes regularly and meals are carefully prepared by Chef Oscar. Be prepared to wait for at least a month before you can get a table.MUST TRY: Indulge in their mouth-watering dishes such as Polenta Bruschetta, Homemade Squid Ink Tagliolini with Haddock and Bottarga.
Hours:

Tue - Thu: 18:30 - 21:30
Fri - Sat: 12:00 - 14:00
Fri - Sat: 18:30 - 21:30
Closed: Mon
Closed: Sun
Closed: PH
Address:
126 Tanjong Pagar Road


I completed a 2 hours long "community sharing session" aka CSS on the 20th. They are held in CCs all over the island - you are eligible to attend the events within your area. They divided us up into 6 .....



Posted in PR, Citizenship, Passes & Visas for Foreigners
Re: PR Approval Probability 2021

Hello
My salary got increased by 4.5% since I applied for PR. Shall I email to ICA to notify or it's not considered material change?

Thank you for your advice.


You can but whether it will have a positive impact, no one can .....



Posted in PR, Citizenship, Passes & Visas for Foreigners
Re: PR Approval Probability 2021