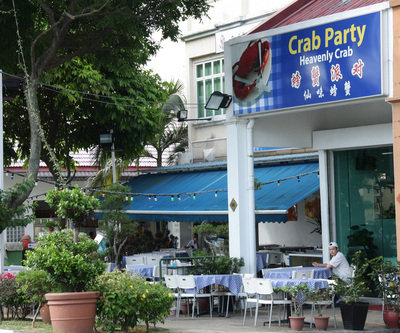 Crab Party

33 / 60
Crab Party offers some of the best Seafood and Chinese cuisine in Singapore, serving a tantalising collection of dishes that are suitable for family gatherings, catching up with friends and large groups. From Crabs to Kampong White Bee Hoon its extensive menu is reflective of the restaurant's efforts to cater to every palate.This restaurant is located at Yio Chu Kang Road. As the name suggests, this place gets wild about crab - over 30 styles of preparation are on the menu, not only classic styles like chili crab and black pepper crab. There are other zi char dishes to complement your meal as well.MUST TRY: Indulge in their mouth-watering dishes such as Imperial Shark Fin Soup, Steam Garoupa in HK Style and Cambodia Style Seabass.
Hours:

Daily: 11:00 - 15:00
Daily: 17:00 - 23:00
Address:
98, 100 Yio Chu Kang Road
Cuisine:
Asian, Chinese, Local, Seafood, Singaporean, Zi Char
Pretty normal..usually more obvious towards the end of the second trimester or third trimester.



Posted in Moms Group
Re: Benefits outweigh the risks of mRNA vaccine?
Let's face it, short-term, there will always be outliers, side-effects, regardless of what vaccine you use, or indeed any medical treatment you apply in general, tried and true included. Clearly though, as of the here and now, statistically, the benefits of mRNA outweigh the risks.

But going .....



Posted in Beauty, Health & Fitness
Re: PR approval chances (applied in 2022)

Is it still necessary for me to keep ICA updated in my pending PR application since I will be receiving a renewed EP from the same employer? e.g. email ICA/etc.) In addition, my base salary will be modestly increased. Is it .....