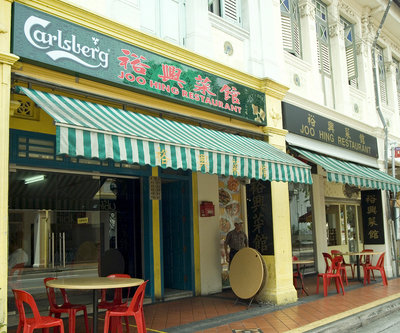 Joo Heng Restaurant
裕兴菜馆
32 / 44
The HungryGoWhere team is here to help you. Listed below are this eatery's available take-away and delivery options.

Delivery:
Joo Heng Restaurant has no delivery options.

Take-away:
Joo Heng Restaurant is offering take-away via the following options:
walk in
THE BUZZ: Joo Heng Restaurant offers some of the best Chinese cuisine in Singapore, serving a tantalising collection of dishes that are suitable for family gatherings, large groups, catching up with friends and colleagues. From Black Pepper Beef to Fried Fish Slices with Bittergourd its extensive menu is reflective of the restaurant's efforts to cater to every palate.This restaurant is located at Joo Chiat Road. This classic zi char place is an institution in the Joo Chiat neighbourhood. Their house specialities are drawn from family recipes.MUST TRY: Indulge in their mouth-watering dishes such as Prawn Rolls, Prawn Paste Chicken and Claypot Beancurd.
Hours:

Tue - Sun: 11:00 - 14:00
Tue - Sun: 17:00 - 22:00
Closed: Mon
Address:
360 Joo Chiat Road
Pretty normal..usually more obvious towards the end of the second trimester or third trimester.



Posted in Moms Group
Re: Benefits outweigh the risks of mRNA vaccine?
Let's face it, short-term, there will always be outliers, side-effects, regardless of what vaccine you use, or indeed any medical treatment you apply in general, tried and true included. Clearly though, as of the here and now, statistically, the benefits of mRNA outweigh the risks.

But going .....



Posted in Beauty, Health & Fitness
Re: PR approval chances (applied in 2022)

Is it still necessary for me to keep ICA updated in my pending PR application since I will be receiving a renewed EP from the same employer? e.g. email ICA/etc.) In addition, my base salary will be modestly increased. Is it .....