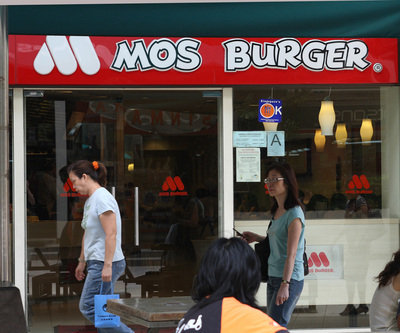 MOS Burger

4 / 5
MUST TRIES: Indulge in their mouth-watering dishes such as Spicy Chilli Dog, Caesar Salad Burger, Beef Bolognese, MOS Cheeseburger, Wagyu Burger Grilled Tomato and Chilli.Mos Burger offers some of the best Western and Asian Cuisine serving a tantalizing collection of dishes that are suitable for family, large groups, catching up with friends and colleagues. From Dendeng Satay Beef to Dendeng Spicy Beef, its extensive menu is reflective of the restaurant's effort to cater to every palate.Located at Toa Payoh HDB Hub (nearest train: Toa Payoh MRT Station), Mos Burger is a Japanese fast-food chain that offers its own versions of the American hamburger, with fillings such as teriyaki chicken, beef and eel. There are also rice and Natsumi "burgers", and spicy sauces to zing up even an ordinary hamburger. Come and try out their delicious dishes with your friends and family!
Hours:

Mon - Thu: 10:00 - 23:00
PH: 10:00 - 23:00
Fri - Sat: 10:00 - 23:30
Eve of PH: 10:00 - 23:30
Sun: 10:00 - 23:00
Address:
490 Lorong 6 Toa Payoh, #01-13 Toa Payoh HDB Hub
My understand between checked baggage vs cargo for pets:

Checked bagged is when owner flies with pet on the same flight. The pet's carrier is tied to the owner's name and I read if the pet's carrier goes missing, it might be harder to track?

Cargo is tied to the pet's name and has .....



Posted in Relocating, Moving to Singapore
Hi I wouldn't do that coz, as i said earlier its not the sole reason. I don't want to mislead anyone.

Thanks



Posted in PR, Citizenship, Passes & Visas for Foreigners
Hi, Is it possible to share what kind of commercial property U bought?. I am interested in buying small scale commercial properties.