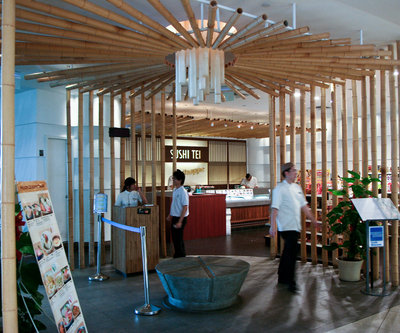 Sushi Tei

36 / 55
The HungryGoWhere team is here to help you. Listed below are this eatery's available take-away and delivery options.

Delivery:
Sushi Tei is offering delivery via the following options:
https://deliveroo.com.sg/menu/singapore/telok-blangah/sushi-tei-vivocity

Take-away:
Sushi Tei has no take-away options.

Sushi Tei offers some of the best Japanesecuisinein Singapore, serving atantalisingcollection of dishes that are suitable for casual dining and group gatherings. The menu features a variety of specialty roll, Japanese wagyu and pork from Kagoshima, sashimi, sushi, salad, temaki, andmanymore.Located at VivoCityalong Harbourfront Walk, Sushi Tei provides a warm and invitingambiencethat brings guests in a truly authentic Japanese culinary experience.Sushi Tei aims to provide satisfying dishes at good quality and value, using only fresh and top grade ingredients to bring out the right balance offlavours.
MUST TRIES:Items to look forward toincludeKagoshima Wagyu Jumbo Hamburger Steak, Sashimi Salad, Sanshoku Hana Salmon, Spicy Aburi Maguro & Salmon Roll, Edamame, and a lot more.
Hours:

Daily: 11:30 - 22:00
Address:
1 Harbourfront Walk, #02-152 Vivocity
Nationality make a difference. You'll be surprised. If one is Ukrainian or Russian, be prepared for rejection on first try. You seem to be very secretive about your nationality.

1. It saves on application fee if you apply once compared to applying twice. Having a kid shows .....



Posted in PR, Citizenship, Passes & Visas for Foreigners
Re: STVP days after EP Cancellation

Can somebody else confirm the above poster's statement about end of EP STVP? This is good news.

News only (not firsthand) but appears to be the case?

Both women are racing against the clock to find a new job in .....



Posted in PR, Citizenship, Passes & Visas for Foreigners
Re: Malaysian Single Applying For Citizenship


Appreciate your opinions on the probability.


In all probability you are a shoe-in. Go for it.