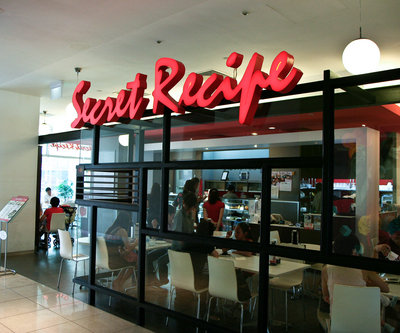 Secret Recipe

7 / 16
MUST TRIES:Indulge in their mouth-watering dishes such as Black Pepper Chicken, Grilled Chicken with Mushroom Sauce, Curry Mee Noodle in Tom Yum Kung and Pan-grilled Catch of the Day.For their drinks, they offer coffee, fruit juices and smoothies.Secret Recipe offers some of the best International Cuisine serving a tantalising collection of dishes that are suitable for family, large groups, catching up with friends and colleagues. From Satay to Thai Style Spaghetti its extensive menu is reflective of the restaurant's efforts to cater to every palate.

This restaurant is located in Vivocity along Harbourfront Walk. This popular restaurant chain from Malaysia specialises in a dazzling choice of cakes and desserts. The dine-in menu has a bit of everything Asian: Vietnamese, Thai, Japanese as well as Western fares such as pasta and stew.
Hours:

Mon - Thu: 11:00 - 22:00
Fri - Sat: 11:00 - 23:00
Sun: 11:00 - 22:00
Address:
1 Harbourfront Walk, #02-108/109 Vivocity
Cuisine:
Fusion, Halal, International
Re: Service apartment for long term stay

There is one called Great World City Service Apartment. It is in the city center and is connected to mall, supermarket and Subway station. I stayed there when I came first to Singapore 7 years before.


I know several people .....



Posted in Relocating, Moving to Singapore

Hi All,
I moved to a landed property about 1.5 years ago. Three weeks after we moved in, the landlord sold the property. As we had a two-year lease, we were not concerned. The new landlord came to meet us and let us know that they would .....



Posted in Property Talk, Housing & Rental
Posted in Property Talk, Housing & Rental