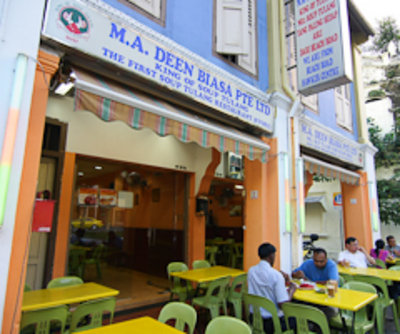 M A Deen Biasa

5 / 6
THE BUZZ: M.A. Deen Biasa offers some of the best Indian and Halal cuisines in Singapore, serving a tantalising collection of dishes that are suitable for casual dining and group gatherings. Prepared using only the freshest and most delicious ingredients, every dish in the menu is bound to satisfy your taste buds.
Located along Jalan Sultan, M.A. Deen Biasa provides a relaxed and friendly atmosphere where diners can enjoy mouthwatering dishes at reasonable prices.
MUST TRY: Come and try their delicious Soup Tulang with your friends and family!
Address:
95 Jalan Sultan





close to zero, duration of stay is too short


LOL. Are you sure? he has a 50% Chance now and when he .....



Posted in PR, Citizenship, Passes & Visas for Foreigners
Re: How to actually move out of SG

We have applied for FAFSA and done up the CSS profile on college board. Each school has its own set of requirements which can be a lot of hoops to jump through, but it's a hell of a lot better than spending 80K a year.


I'd .....



Posted in General Discussions
Re: Single Singaporean mum giving birth overseas

Hi all,

Am a Singaporean (by birth) and have been working in Shanghai last couple of years. Due to work reasons, I may not be able to be back in SG to have my baby delivered there.
I'm a single mum, been reading up on ICA website .....