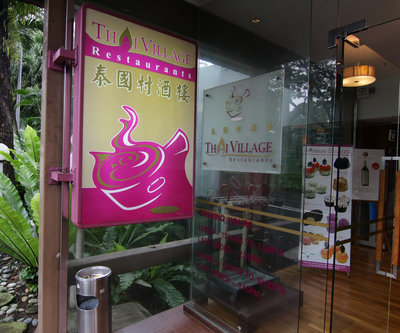 Thai Village Restaurant
泰国村酒楼
2 / 11
THE BUZZ:Thai Village Restaurant is a casual dining place that offers an exceptional dining experience with their menu featuring the best in Chinese Thai-Teochew cuisine. It presents a beautiful selection of seafood, meat & poultry, beancurd & vegetables, rice, noodles & porridge, and more, so there is surely something for everyone.
Located atGoodwood Park Hotel and just a few minutes away fromOrchard MRT Station, Thai Village Restaurant continues to whet appetites with their finest ingredients, delicate taste and outstanding service.
MUST TRY:Items to look forward toincludeBraised Superior Shark's Fin Soup, Baked Crab with Vermicelli, Thai Style Curry Prawns, Pan-fried Japanese Wagyu Beef with Mushrooms, Star Grouper, Baked Thai Style Cod Fish, and a lot more.
Hours:

Daily: 11:00 - 14:30
Daily: 18:00 - 22:00
Address:
22 Scotts Road
Cuisine:
Asian, Chinese, Indochinese, Seafood, Teochew, Thai
Re: Service apartment for long term stay

There is one called Great World City Service Apartment. It is in the city center and is connected to mall, supermarket and Subway station. I stayed there when I came first to Singapore 7 years before.


I know several people .....



Posted in Relocating, Moving to Singapore

Hi All,
I moved to a landed property about 1.5 years ago. Three weeks after we moved in, the landlord sold the property. As we had a two-year lease, we were not concerned. The new landlord came to meet us and let us know that they would .....



Posted in Property Talk, Housing & Rental
Posted in Property Talk, Housing & Rental