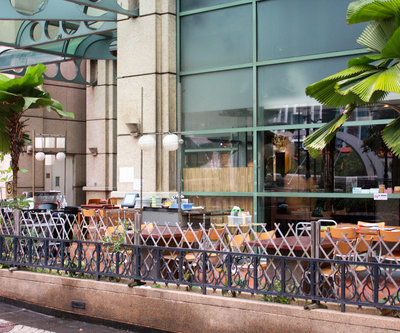 Nanjya Monjya Japanese Restaurant

15 / 22
Nanjya Monjya Japanese Restaurant offers some of the best Japanese cuisine in Singapore, serving a tantalising collection of dishes that are suitable for casual dining and group gatherings. It presents a wide selection of fried appetizers, rice and noodles, maki, teppanyaki, and many other Japanese favourites, that will surely satisfy your taste buds.Located at Waterfront Plaza, this Japanese restaurant provides an airily and relaxing outdoor terrace seats which makes it an ideal place for families and friends to come over and enjoy each other's company over a wonderful meal filled with the freshest and most delicious ingredients.MUST TRIES: Items to look forward to include Deep Fried Burdock, Corn Cream Croquette, Garlic Fried Rice, Ramen Noodles on Bamboo Tray, Cream Stew, and a lot more.
Hours:

Daily: 17:00 - 01:00
Address:
390A Havelock Road, #01-03/04/05 Grand Copthorne Waterfront Hotel
Personally I don't see anything wrong with it. Especially, when it is publicly posted on their website. Don't nightclubs that also serve food and alcohol also keep kids out (carding at the door in a lot of instances). (I don't use height as a metric here). So if a .....



Posted in General Discussions
Whining mama doesn't get much sympathy in Dublin!

https://www.independent.ie/irish-news/i-was-refused-by-d4-restaurant-in-case-my-little-girl-disturbed-diners-30930651.html
Will need to put Dublin on my list of must travel places I see!



Posted in General Discussions


You may consider to add to your standard screening tests the respective cancer markers (PSA in this case). It costs ca SGD30.
Just $30? I've been pushing my dad to go in for a full physical but .....



Posted in Beauty, Health & Fitness