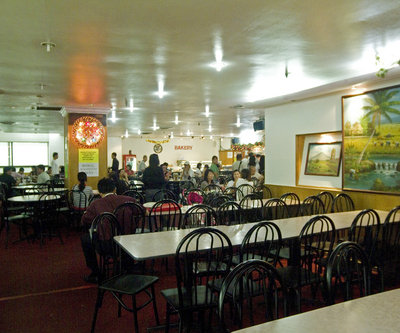 Kabayan Filipino Restaurant

8 / 11
The HungryGoWhere team is here to help you. Listed below are this eatery's available take-away and delivery options.

Delivery:
Kabayan Filipino Restaurant has no delivery options.

Take-away:
Kabayan Filipino Restaurant is offering take-away via the following options:
Walk in

Kabayan Filipino Restaurant offers some of the best Filipino cuisines in Singapore, serving a tantalizing collection of dishes that are suitable for casual dining and group gatherings. From snacks to hot plate dishes, its extensive menu is reflective of the restaurant's efforts to cater to every palate.
Located at Lucky Plaza, Kabayan Filipino Restaurant provides a casual and relaxed atmosphere to accommodate any form of dining where families and friends can spend some quality time together over a wonderful meal filled with the freshest and most delicious ingredients.
MUST TRIES: Items to look forward to including Caldereta (Beef Stew), Kare-Kare (Stew in savory peanut sauce), Sisig, Pinakbet, Bulalo (Beef Marrow Stew), and a lot more.
Hours:

Daily: 08:00 - 21:00
Address:
304 Orchard Road, #03-25 Lucky Plaza
Re: Will Darlie toothpaste be next?
I remember when that blew up over here. In fact, if we search the archives here around 2016 or 17 I believe there was a thread on it as well.


Italy responded! https://www.youtube.com/watch?v=0bDqAkgAblI



Posted in Leisure Chat, Jokes, Rubbish
Re: My Nightmare Experience with a Property Agent
Hi Lisa,

They offered to return a total of $2683 back to me. This was from a deposit a 5600 so total deductions of just over 3000 sgd. In the end I accepted this offer as the only alternative would be to send a letter of demand and then proceed to the Small Claims Courts.

It's a shame the .....



Posted in Property Talk, Housing & Rental
Re: Will Darlie toothpaste be next?


I went to quite a few minstrel shows back in the day when I was still in high school. In fact, The Elks Club used to have a big deal out of their production in my .....



Posted in Leisure Chat, Jokes, Rubbish