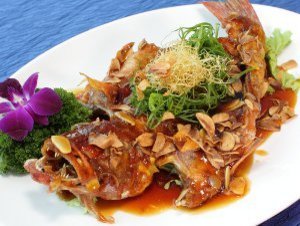 Qian Xi
千禧
6 / 9
Qian Xi offers some of the best Chinese Cuisine serving a tantalising collection of dishes that are suitable for family, large groups, catching up with friends and colleagues. From Roasted Crispy Chicken to Braised Shark's Fin Soup with Crab Meat its extensive menu is reflective of the restaurant's efforts to cater to every palate.

This restaurant is located in Tanjong Katong Complex along Geylang Road. Qian Xi restaurant brings a wide range of Chinese exquisite dishes and cuisine together with a panoramic view. The Qian Xi Group of Restaurants boasts multiple locations scattered conveniently around our little island.MUST TRY: Indulge in their mouth-watering dishes such as Creamy Butter Prawn, Steamed Red Snapper with Bean Crumb, Fried Prawn with Salty Egg Yolk, Steamed Red Garoupa, Fried Rice in Lotus Leaf and Crispy Roasted Suckling Pig.
Hours:

Daily: 11:00 - 14:30
Daily: 18:00 - 22:30
Address:
845 Geylang Road, #04-09 Tanjong Katong Complex
Cuisine:
Asian, Chinese, Local, Singaporean
Re: PR Approval Chance for 2023


One thing that has definitely changed in the last 14 years I have been here is the image of Global Indians has jumped by leaps and bounds. I remember back in 2009, there was only Vikram Pandit who was made CEO of Citibank and he didn't do .....



Posted in PR, Citizenship, Passes & Visas for Foreigners





What do you mean 4 lines? It is just a table, with each person added to the application in a separate row and the .....



Posted in PR, Citizenship, Passes & Visas for Foreigners
Re: Spending majority of year in Sing as a Retired Tourist?

TBH, I can't imagine spending the majority of the year in Sing as a retired tourist. What in the world would you do with your time? Unless you have family here or something?


How would it be any more boring here than any .....



Posted in Relocating, Moving to Singapore