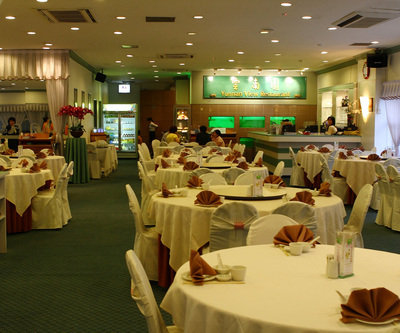 Yunnan View Restaurant
云南园
5 / 6
Yunnan View Restaurant offers some of the best Chinese Cuisine serving a tantalising collection of dishes that are suitable for family, large groups, catching up with friends and colleagues. From Mango Prawn Fritters to Dim Sum its extensive menu is reflective of the restaurant's efforts to cater to every palate.

This restaurant is located in Fairway Club along Japanese Garden Road. Yunnan View Restaurant is a Chinese restaurant serving unpretentious, homely and good quality Chinese cuisines. Come and enjoy their delicious dishes with your family and friends!MUST TRY: Indulge in their mouth-watering Roasted Chicken.
Hours:

Daily: 11:30 - 14:30
Daily: 18:00 - 22:00
Address:
11 Japanese Garden Road
Cuisine:
Asian, Chinese, Teochew, Vegetarian
Re: Service apartment for long term stay

There is one called Great World City Service Apartment. It is in the city center and is connected to mall, supermarket and Subway station. I stayed there when I came first to Singapore 7 years before.


I know several people .....



Posted in Relocating, Moving to Singapore

Hi All,
I moved to a landed property about 1.5 years ago. Three weeks after we moved in, the landlord sold the property. As we had a two-year lease, we were not concerned. The new landlord came to meet us and let us know that they would .....



Posted in Property Talk, Housing & Rental
Posted in Property Talk, Housing & Rental