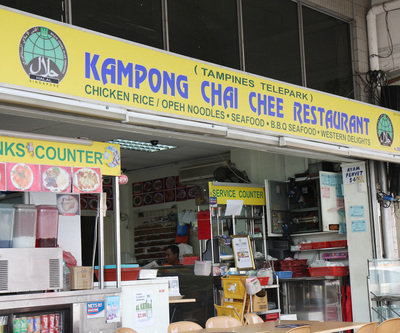 Kampong Chai Chee

6 / 11
The HungryGoWhere team is here to help you. Listed below are this eatery's available take-away and delivery options.

Delivery:
Kampong Chai Chee has no delivery options.

Take-away:
Kampong Chai Chee is offering take-away via the following options:
https://www.foodpanda.sg/restaurant/v3gm/kampong-chai-chee-restaurant-changi-road
Facebook
Kampong Chai Chee is a Halal-certified that offers some of the best Chinese cuisines, serving a tantalising collection of dishes that are suitable for family, large groups, catching up with friends and colleagues. From Steamboat to Hot Plate its extensive menu is reflective of the restaurant's efforts to cater to every palate.Located along Changi Road,Kampong Chai Chee is just a few minutes away fromKembangan MRT Station. It provides a comfortable setting and a welcoming ambience which makes it a great place to enjoy their delectable dishes together with your family and friends.MUST TRIES: Indulge in their mouth-watering dishes such as Buffalo Wings, Hawaiian Pizza, Shark's Fin with Crab Meat Soup, Black Pepper Beef, Dry Chilli Chicken and Hot Plate Otah.
Hours:

Daily: 13:00 - 21:30
Address:
303 Changi Road
Re: Spending majority of year in Sing as a Retired Tourist?

TBH, I can't imagine spending the majority of the year in Sing as a retired tourist. What in the world would you do with your time? Unless you have family here or something?


How would it be any more boring here than any .....



Posted in Relocating, Moving to Singapore
Most newcomers to this forum are phony, so you'll have to do better than hello.



Posted in Entertainment, Leisure & Sports



Something new I heard today is of your PR pending shows 4 lines then it's a good chance else it shows 1 or .....