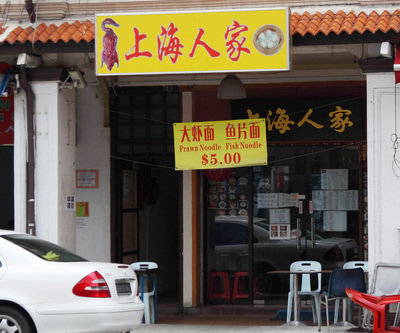 Shanghai Family Restaurant
上海人家
8 / 11
THE BUZZ: Shanghai Family Restaurant offers some of the best Shanghainese cuisine in Singapore, serving a tantalising collection of dishes that are suitable for casual dining and group gatherings. Prepared using only the freshest and most delicious ingredients, every dish in the menu is bound to satisfy your taste buds.Located along Geylang Road Road, Shanghai Family Restaurant provides a casual and friendly atmosphere to accommodate any form of dining where families and friends can enjoy delectable dishes that will surely deliver a memorable dining experience and gastronomic indulgence.MUST TRY: Items to look forward to include Xiao Long Bao, Pan-fried Bun, Dumplings, Beijing Roasted Duck, Salted Egg Prawns, and a lot more.
Hours:

Daily: 11:00 - 01:00
Address:
789 Geylang Road
Cuisine:
Asian, Chinese, Shanghainese
We are likely moving to California at the end of next year, we certainly won't be spending near as much $ as we do here.

I have scoped out the best high schools for my son, nearly as good as SAS, but free. That alone will be a huge weight lifted. I've been checking out used cars on Carfax.com .....



Posted in General Discussions
Listings on PG in the last 2 months...definitely more supply

15/7/2023- 30,000
22/7/2023- 30,200
29/7/2023- 30,100
5/8/2023- 30,300
12/8/2023- 30,400
19/8/2023- 30,700
26/8/2023- 30,900
2/9/2023- 31,100
9/9/2023- 31,600
16/9/2023- 31,700
23/9/2023 -32,200



Posted in Property Talk, Housing & Rental
Try these people..... I cannot vouch for them as I've never needed a translator but apparently they are also accepted by the various ministries here.

https://www.singaporetranslators.com/