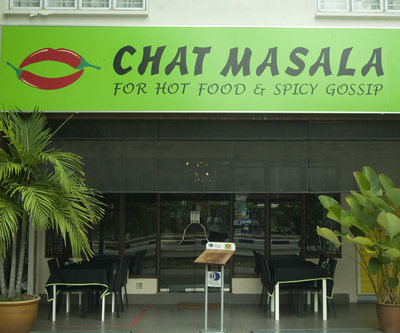 Chat Masala

27 / 38
Chat Masala offers some of the best Indian cuisine serving a tantalising collection of dishes that are suitable for family, large groups, catching up with friends and colleagues. From Vegetarian Curry with Cottage Cheese to Pakora its extensive menu is reflective of the restaurant's efforts to cater to every palate.

This restaurant is located along Upper East Coast Road. Chat Masala is a lovely place with great service, good cocktails, not too extortionate, and the food is mouthwatering! Fans of North Indian food will definitely enjoy the food, good service and ambience.MUST TRIES: Indulge in their mouth-watering dishes such as Chicken Tikka, Falooda, Chicken Perattu Rice, Navarathan Masala, Tandoori Chicken Platter and Garlic Naan.
Hours:

Daily: 12:00 - 14:00
Daily: 18:30 - 22:30
Address:
158 Upper East Coast Road
Cuisine:
Asian, Indian, North Indian, South Indian
Re: Dependent Pass vs. Student Pass



It depends which route of visual arts, painting/sculpting or filmmaking/photography? For the latter, those skills can be .....



Posted in PR, Citizenship, Passes & Visas for Foreigners
Re: Any Phuket recommendations?

Would love to see some trip itineraries if anyone has some... Planning a 3 week honeymoon there and don't really know where to start!


For a honeymoon, I definitely recommend the Rayavadee near Krabi. We did our pre-honeymoon .....



Posted in General Discussions
Re: Ignoring ICA on citizenship



Out of curiosity, if you had not fulfilled the residency requirements, what would've happened to her?


Stateless.
Right, but what .....



Posted in Strictly Speaking