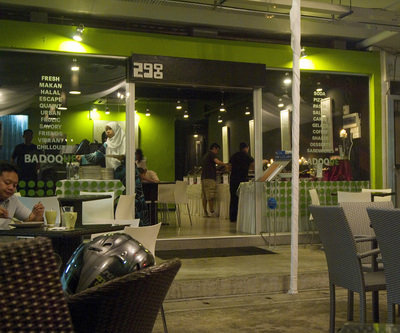 Badoque

36 / 47
The HungryGoWhere team is here to help you. Listed below are this eatery's available take-away and delivery options.

Delivery:
Badoque is offering delivery via the following options:
Phone: 64466928

Take-away:
Badoque is offering take-away via the following options:
Phone: 64466928
THE BUZZ: Badoque offers some of the best European cuisines in Singapore, serving a tantalizing collection of dishes that are suitable for group gatherings and casual dining. It presents a variety of dishes, so there is something for everyone on the menu.Located along Bedok Road, Badoque is only a few minutes away from Tanah Merah MRT station.MUST TRY: Items to look forward to including Chicken Salad, Seafood Aglio Olio, and Shrimp Tartine.
Hours:

Daily: 12:00 - 23:00
Address:
298 Bedok Road


I completed a 2 hours long "community sharing session" aka CSS on the 20th. They are held in CCs all over the island - you are eligible to attend the events within your area. They divided us up into 6 .....



Posted in PR, Citizenship, Passes & Visas for Foreigners
Re: PR Approval Probability 2021

Hello
My salary got increased by 4.5% since I applied for PR. Shall I email to ICA to notify or it's not considered material change?

Thank you for your advice.


You can but whether it will have a positive impact, no one can .....



Posted in PR, Citizenship, Passes & Visas for Foreigners
Re: PR Approval Probability 2021