Restaurants in Singapore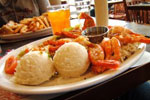 Singapore Expats comprehensive restaurant listings in Singapore, includes address, contact number, type of cuisine, reviews.
Please contact us to advertise.

2

0

0

0
"For most individuals in the UK the TIN will be their National Insurance Number".
Is this statement correct?

( "A Taxpayer Identification Number (TIN) is an identification number used by the Internal Revenue Service " )



Posted in Careers & Jobs in Singapore
Re: PR Application - Need help to pick right occupation for my role
Choose whichever is the closest, the letter of employment you submit is going to have your job title anyway.



Posted in PR, Citizenship, Passes & Visas for Foreigners
Re: Timeline of my Wife's PMLA/LTVP
You applied PR too early IMO. Common consensus is to wait 2-3 years after marriage before applying or ICA sees it as a marriage of convenience. Could have used $100 to invest instead or save it. :P

You can still get BTO under non-citizen spouse scheme, just that it's only 2 room flat in .....